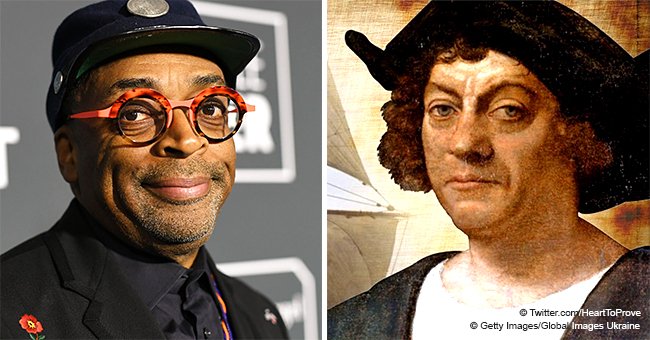 Spike Lee calls famed explorer Christopher Columbus 'terrorist', claims people need to know this
Spike Lee has referred to the renowned explorer Christopher Columbus as a terrorist while also emphasizing that people need to know the truth about America's past.
The Oscar-nominated filmmaker was on MSNBC's "Morning Joe," on Wednesday to discuss his latest movie, "BlacKkKlansman" when the anchors broached the topic of race.
The film, written, produced and directed by Lee, is based on the true story of Ron Stallworth, the first African American detective in the Colorado Springs Police Department who succeeds in infiltrating the local Ku Klux Klan branch.
"I was not told George Washington owned slaves. I was just told that he chopped down the cherry tree."
The movie explores the concept of race in the United States, and when one of the anchors asked Lee what he thinks of race in today's America, the 61-year-old implied that things are still the same.
"Well I just think that what we've seen, it's evident to me that this stuff has never gone away," he said. "You might think it's gone away, but it's bubbling under the surface, and it comes out."
Lee then went on to explain the reason behind his choice of attire, a black hat and hooded sweatshirt embossed with "1619" in white letters.
"400 years ago, the first slaves were brought to this country in Jamestown, Virginia," Lee shared before talking about America's history and Columbus's terrorism:
"I think that a lot of people need to know this. Because this is part of American history, which is not all good. You know, I think that when I was in public school in Brooklyn, New York, I was not told George Washington owned slaves. I was just told that he chopped down the cherry tree and wouldn't tell a lie. In 1492, this guy, this terrorist sailed the ocean blue. I mean, we have got to start teaching, I feel, my opinion, let's be honest about our history and let's move forward."
Last month, fans got to see Lee's excited reaction as he received his first ever "Best Director" nomination for "BlacKkKlansman" in the upcoming Academy Awards.
"Da Happy Lee's This Morning. FINALLY," the filmmaker captioned a clip of his family going wild after the announcement.
Lee has directed other numerous other hit productions, including "Chi-Raq" and "Malcolm X."
Please fill in your e-mail so we can share with you our top stories!