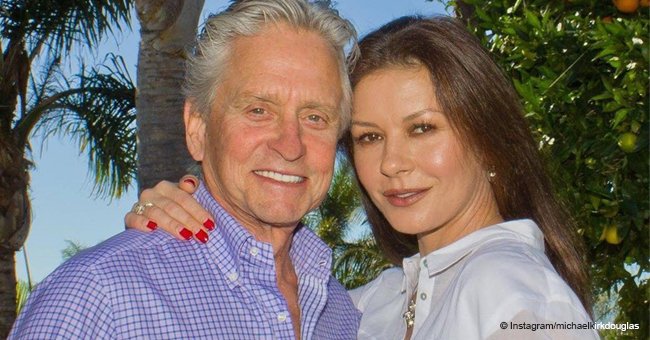 Michael Douglas shares sweet photo with wife proving how much he loves her
Michael Douglas and his wife Catherine Zeta-Jones still look madly in love in a Valentine's Day photo the actor shared on social media.
Douglas posted the picture of himself wearing a blue button-down shirt with his wife wearing a white blouse. Jones' hand was wrapped around her husband's neck.
The pair both looked towards the camera and smiled. In the background were palm and fruit trees and the blue sky sat in the middle. The photo is found below.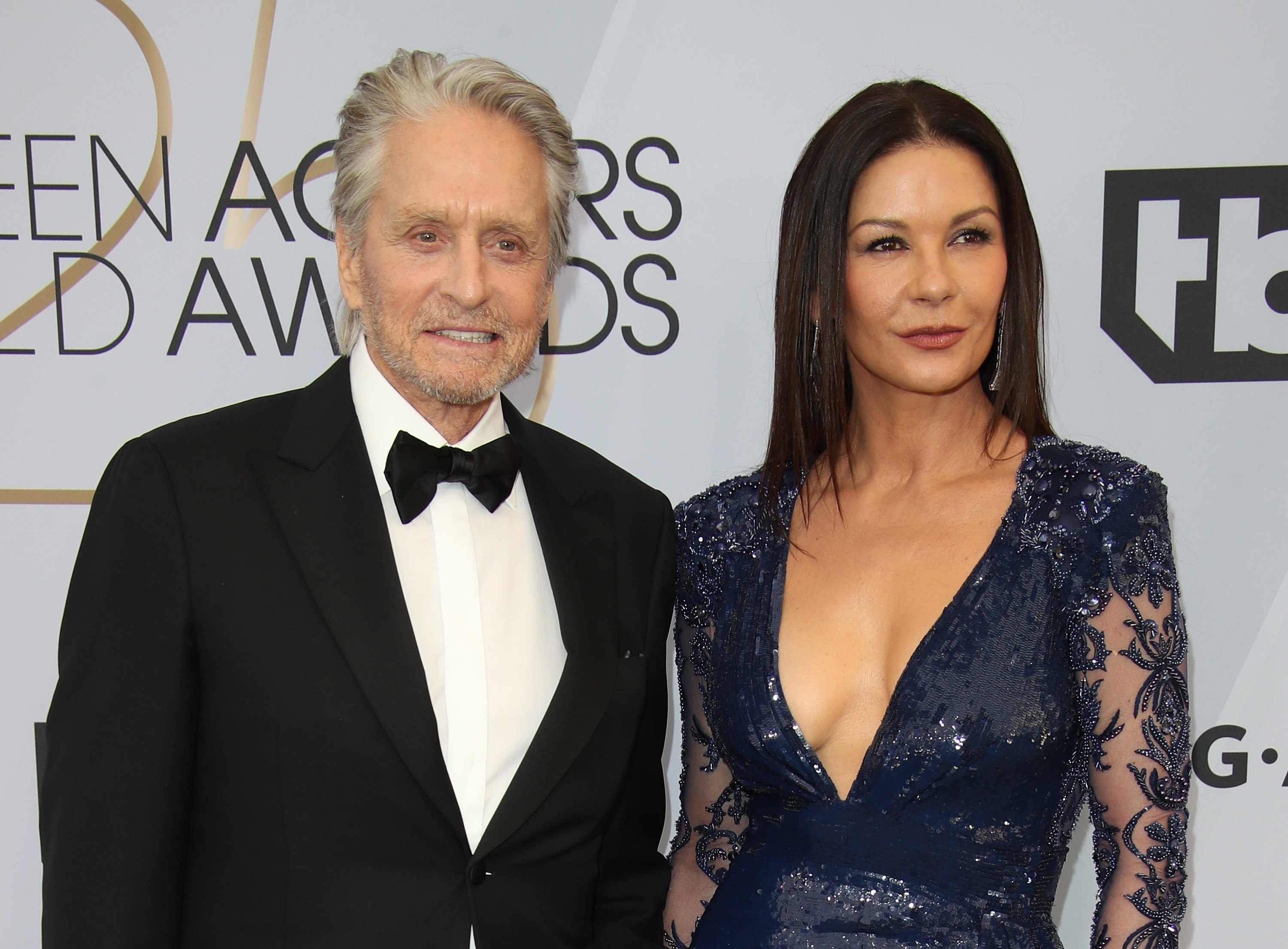 Michael Douglas and Catherine Zeta-Jones attend the 25th Annual Screen Actors Guild Awards at The Shrine Auditorium on January 27, 2019 in Los Angeles, California | Photo: Getty Images
The caption read:
"Happy Valentine's day to my beautiful wife Catherine! I love you! #valentinesday"
The celebrity couple has been together for nearly 20 years now, a rarity in Hollywood. From this post, it's clear that their enduring love has a lot to do with it.
They also share two gorgeous children: 15-year-old daughter Carys and 18-year-old son Dylan. Zeta-Jones, 49 also shared a sweet post in celebration of Valentine's day on Thursday.
She put up a throwback photo of the family of four kneeling on a hill in front of a body of water. Everyone was smiling for the camera as they embraced each other.
In the caption, Zeta-Jones wrote:
"Love my family. Wales. Happy Valentine's day. #lovelovelove"
Earlier this week, Carys joined her parents for New York Fashion Week. Zeta-Jones stunned in a low-cut dark red dress while her daughter looked chic in some washed out jeans and a flower-patterned jacket.
Last month, Douglas revealed some interesting details about his beloved wife as he walked the red carpet of the Screen Actors Guild Awards.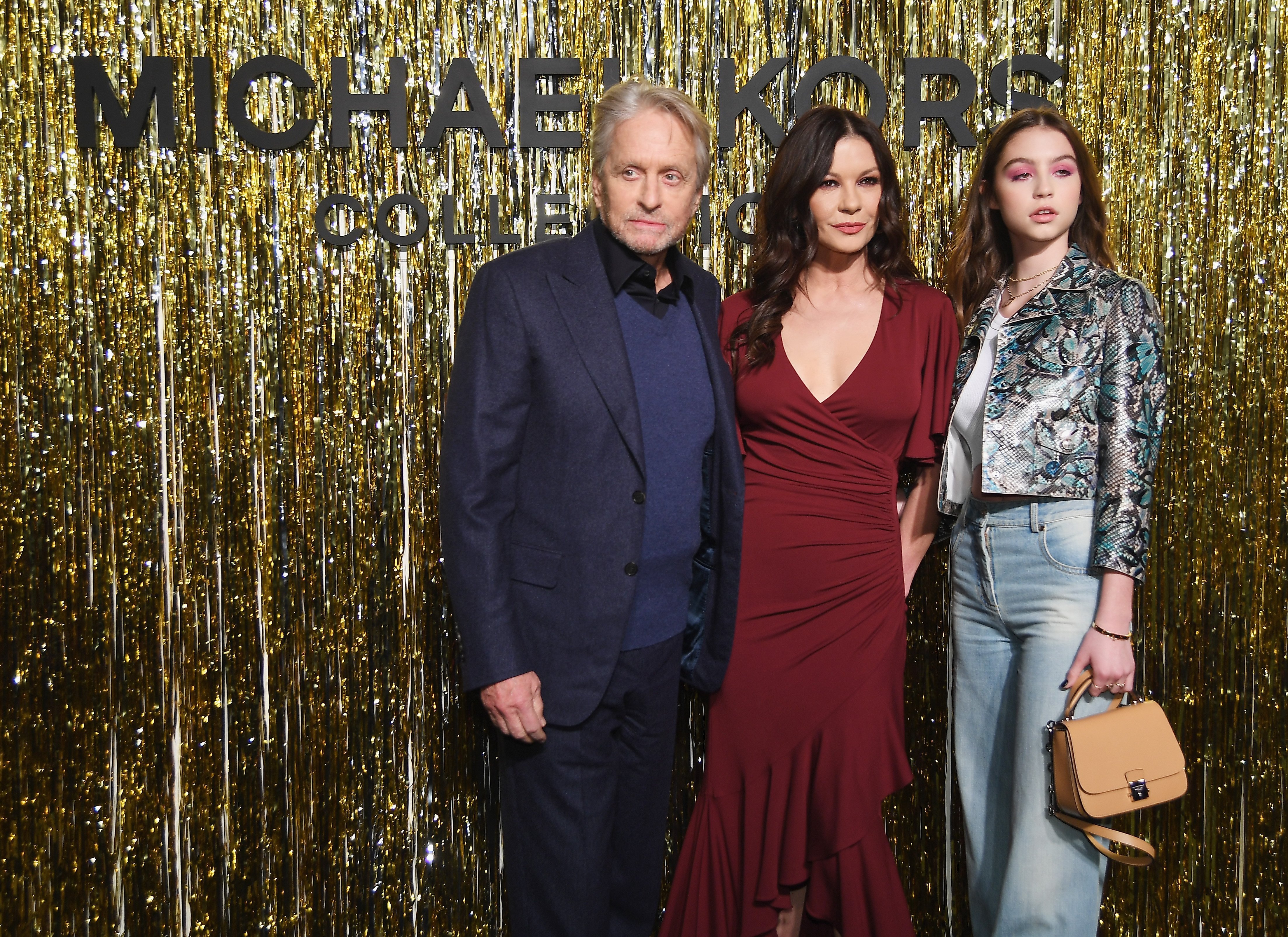 Catherine Zeta-Jones, Michael Douglas, & Carys Jones at the New York Fashion Week on February 13, 2019 | Photo: Getty Images
Going back to when they just met, he said: "I asked her to tap dance in our bathroom on the tile floor." Catherine replied by joking: "That was limited because the marble got a bit scratched up!"
After the pair became official, Zeta-Jones ended up with a dance studio in their home. Now, Douglas said, "I watch her tap dance, anywhere and any place, I love to."
Please fill in your e-mail so we can share with you our top stories!