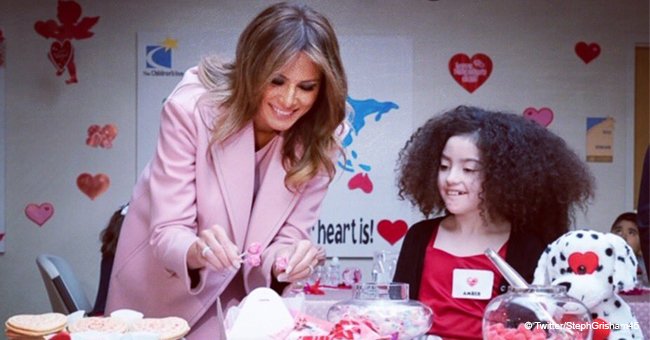 13-year-old sick boy gifts Melania a necklace on Valentine's day with 2 beautiful words

The First Lady received a very special Valentine's Day gift from a sick boy while visiting a hospital.
Melania Trump received a priceless necklace for Valentine's Day - and it wasn't from her billionaire husband.
The First Lady was visiting the Children's Inn at the National Institutes of Health in Bethesda, Maryland, bringing the tiny patients Valentine's Day cards when she received her sweet gift.
"Loved sharing an afternoon with such sweet valentines! Your bravery, strength, and love is amazing. Thank you to the @TheChildrensInn and @NIH for the lifesaving work you are doing! #HappyValentinesDay".
FAITH AND HOPE ON VALENTINE'S DAY
FLOTUS was visiting the Children's Inn at NIH, where one of the small patients, a Kenyan 13-year-old boy called Amani, gave her a silver necklace inscribed with the words "faith" and "hope."
Amani, who has a matching bracelet, is at the NIH being readied for a bone marrow transplant to treat his sickle cell anemia.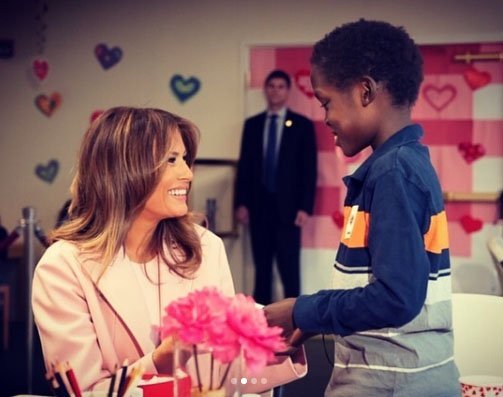 Melania Trump with sick child/ Source: Twitter FLOTUS
Melania Trump has made visiting children at hospitals a FLOTUS Valentine's Day tradition.
A SPECIAL HOME AWAY FROM HOME FOR SICK CHILDREN
The Children's Inn at the NIH is a "home away from home" for children undergoing newly developed therapies at the NIH Clinical Center, and their families.
The families and the children stay at the Inn free of charge from 24 hours before their treatment starts, until 24 hours after it ends.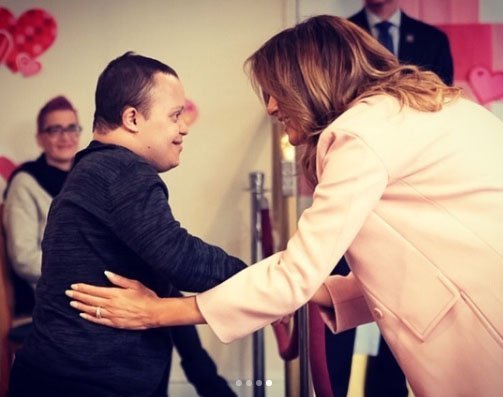 Melania Trump with sick child/ Source: Twitter FLOTUS
MAKING ARTS AND CRAFTS WITH THE CHILDREN
The radiant First Lady spent the afternoon happily doing Valentine's Day arts and crafts with the sick children and their siblings. Many have traveled far from home to participate in ground-breaking treatments discovered by the NIH's cutting-edge research.
VISITING CHILDREN ON VALENTINE'S IS FLOTUS TRADITION
Melania Trump has made visiting children at hospitals a FLOTUS Valentine's Day tradition.
In 2018 the First Lady Valentine's Day cards and coloring books to children at Cincinnati Children's Hospital Medical Center in Ohio, and learned about the effect their mother's opioid addiction can have on newborns.
The FLOTUS is especially dedicated to children's issues, and her "Be Best" programme was created to fight bullying and opioid addiction, among other problems.
MELANIA TRUMP'S SWEET VALENTINE OUTFIT
The First Lady stepped out pretty in pink for her visit to the NIH in Maryland.
Melania Trump, 48, who is known for her elegance and considered one of the best-dressed women in the world, chose a delicate shade of pink for a romantic Valentine's Day look.
The First Lady wore a $1,795 pink coat by Cedric Charlier, over a matching shift dress. She coordinated the outfit with candy pink patent leather stilettos and wore her long hair loose, and tumbling over her shoulders.
FLOTUS and her husband did not exchange romantic messages on social media, though it is expected they had their own Valentine's Day celebration at the White House.
In a related story, Melania Trump was a vision in an elegant navy blue jumper and chic red trousers at a Red Cross event.
Please fill in your e-mail so we can share with you our top stories!