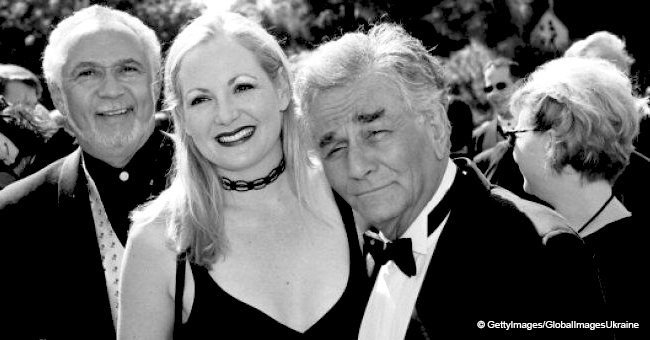 Peter Falk's funeral: his daughter once shared why she was banned from the service

The actor that became famous for his portrayal of TV detective Columbo passed away on June 2011 aged 83. His last years were surrounded by a family conflict that ended up in court.
Peter's daughter Catherine opened up about this personal issue in the days following her father's death, talking to Inside Edition about how she was banned from his funeral and had to learn about his passing from the news.
Catherine was adopted by the TV star and his first wife Alice Mayo. In 1977, Peter remarried to Shera Danese, the woman Catherine blames for deteriorating her relationship with her father, especially since the actor had Alzheimer's disease.
Things were not good between father and daughter since she once filed a lawsuit against him demanding help to pay her college expenses, but she believes that what really undermined her relationship with him was Danese.
"My father was married to a woman that made it really difficult for my father to feel free. We weren't allowed to go to his house," Catherine shared at the time.
Catherine said that despite the problems they had, her father and she eventually reconciled. "I adored him, he adored me," she said.
Just like it happened with Peter's passing, Catherine only learned about her father's suffering from Alzheimer's after paparazzi pictures of the actor emerged, showing him wandering around Beverly Hills visibly disoriented and in bad shape.
Catherine was outraged by the way her father was being taken care of and attempted to take control of his affairs by taking Danese to court, but the court ruled in the latter's favor, leaving Catherine unable to reach Peter.
Catherine's devastating experience inspired her to pursue the creation of legislation that prevents family members and even close friends from being denied visits to someone dear to them in his or her final moments.
In 2016, Catherine introduced her proposed legislation in more than 20 years. Her proposed bill, Senate Bill 6235, establishes that "a guardian can't restrict an incapacitated person's right to visit and communicate with anybody.""The consent of an incapacitated person is presumed based on their history with people, such as close relatives with positive relationships," the bill reads.
It is a sad thing that feuds involving members of a family go so far as to keep individuals to spend quality time and say their final goodbyes to their elders, but it is a very common thing, especially in celebrity families.
A similar situation took place in the final days of family patriarch Joe Jackson when some of his children denounced that they were denied access to their father's medical reports and deathbed.
While Peter reportedly left most of his properties and wealth, with an estimated worth of $5 million, to his second wife Shera, he also left a six-figure inheritance to both Catherine and her sister Jackie.
Peter Falk had a rich life and career, but he is mostly remembered for his beloved role as Lieutenant Columbo, which he played for the best part of 30 years, since 1971 and until the 1990s.
His work on the iconic character earned Peter four Emmy awards. A lesser-known fact is that he was also nominated for the Academy Awards, even before starring in the famous series, for the films "Murder Inc." and "Pocketful of Miracles."
Please fill in your e-mail so we can share with you our top stories!