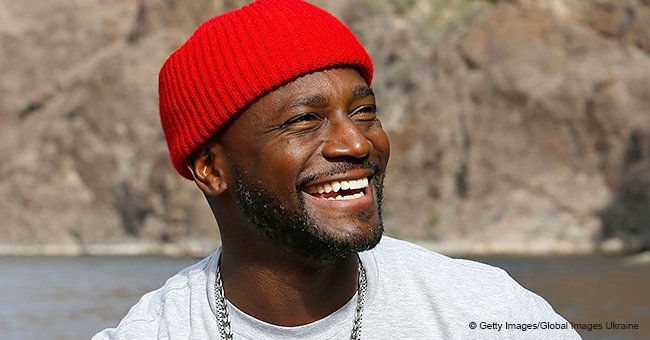 Taye Diggs asks for 'just one baby' from Sanaa Lathan after actress posted cute video
Taye Diggs takes his long-term feelings for his on-screen partner Sanaa Latham to the next level when he begs her to give him a child. "I need them genes," he says.
Taye Diggs made quite a proposal for Sanaa Lathan that has left their fans clamoring for more.
The actor who starred with Lathan in several films in the past reignited their chemistry when he responded to the actress' Valentine's Day post with a shocking proposal. Diggs asked his "Brown Sugar" co-star if she would give him a baby.
"Just one. One baby." He says in her comments section and sweetens his offer by adding, "I'll raise her."
He also clarifies that it's her genes he's after when he writes,
"We can even use a surrogate…. just one with you. Please. I need them genes."
Lathan's post where she's "Sending love" on the day of hearts featured the 47-year-old actress flirting with the camera in a colorful selfie clip. With her hair in tiny braids and her face made-up, she reveals a beautiful glow which she accentuates with heart emojis and an "XOXO" floating above her head. She also blows a kiss and winks at her followers towards the end of her clip.
WHY DIGGS' MAY BE AFTER HER BABY
It's no surprise Diggs would be one of the first to comment and issue an indecent proposal to the star. He's been known to harbor a crush on Lathan since she starred in "Love & Basketball" decades ago.
They also developed quite a chemistry especially in their 2002 film "Brown Sugar where they played friends who eventually fell in love. That film earned them a nomination for Choice Movie Chemistry on the Teen Choice Awards. Two more films solidified their on-screen partnership. These were "Best Man" and its sequel, "The Best Man Holiday".
WHY FANS ARE THRILLED
Diggs and Lathan never took their film chemistry off-screen but fans wouldn't mind a little flirting here and there. The actor's latest pronouncements certainly raised the hopes of those wishing there was more between him and Lathan.
"omg can yall please!!! Give us a little brown sugar," one fan wrote while another predicted, "that baby would rule the world. Please make it happen."
WHY LATHAN WON'T BE BUYING IT
Lathan is currently single and appears to be happy the way it is. In a 2018 interview with Health, she said that despite wishing she had a life partner, she wasn't willing to settle for anything less than "amazing."
"I always wanted, and I dream about having a life partner, but I am completely happy, and I love my freedom. I do date, but I do not want anything less than something that's amazing. And if it's not gonna be that, I'm just gonna keep being my free-spirit self."
WHY DIGGS' PROPOSAL IS HARMLESS
Meanwhile, Diggs also appears to be preoccupied in co-parenting his 8-year-old son, Walker with his ex-wife Idina Menzel. This Valentine's day, he shared a photo of the two of them on Instagram and gushed about being a parent. He doesn't seem to mind being single too. In fact, he revealed to People that his son prefers it that way.
"He said the other day that he doesn't want me to have a girlfriend. He said 'I want you to myself.' Then he said, 'is that okay to say dad?' and I was like 'yeah, man I want you to be able to tell me anything.' I get that."
Reports from early last year reveal Diggs seeing bi-racial model and actress Amanza Smith. It's unclear if the two are still dating now.
Please fill in your e-mail so we can share with you our top stories!