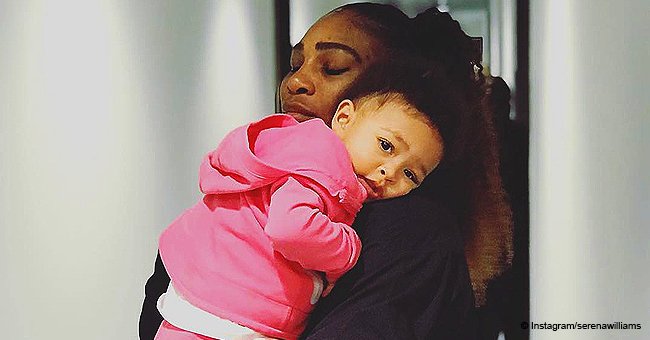 Serena Williams throws daughter Olympia epic carnival-themed party just for fun in new pics

Serena Williams' faith did not permit her to throw a birthday party for her daughter, Olympia Ohanian, but the tennis star and her husband threw one this past weekend "just for fun."
Taking to her Instagram Stories on Saturday, Serena, 37, shared a series of videos (found below) from the carnival-themed bash organized in honor of Olympia.
Panning her camera across the backyard where the party took place, an excited Serena said:
"This is so fun, Olympia. We wanted to just do something fun because we don't do birthdays."
The athlete then proceeded to show followers a slide-house set that her husband, Alexis Ohanian, coupled together. The tech entrepreneur, however, forgot to attach the slide to the house.
"Oh, boy, is that a slippery slide?" Serena joked.
Friends and family gathered in Alexis and Serena's large backyard, eating and drinking and generally having fun. There was also a mini Merry-Go-Round, a colorful train, and a confectionery station aptly named "Olympia's Candy Shop."
Although Alexis didn't grow up going to church, "he's really receptive and even takes the lead. He puts my needs first."
Interestingly, the "shop" housed a giant teddy bear in a red car surrounded by cakes, cupcakes, popcorn, and other sweets.
The playlist for the day featured Disney songs, including "Something There" from Beauty and the Beast, which Serena sang along to.
The special guest of the day, Little Miss Olympia, looked adorable in a polka dot dress with her hair styled in two buns.
Alexis shared a black-and-white photo of his little girl pointing at some ducks in the background. "OK, we'll get some chickens & ducks," he wrote.
Olympia turned one last September, but her superstar mom announced that they would not be celebrating because of her faith as a Jehovah's Witness.
According to the group's website, "although the Bible does not explicitly forbid celebrating birthdays, it does help us to reason on key features of these events and understand God's view of them."
They also argue that:
"Birthday celebrations have pagan roots; The early Christians did not celebrate birthdays; The only commemoration that Christians are required to keep involves, not a birth, but a death—that of Jesus; The Bible never refers to a servant of God celebrating a birthday."
In a 2017 interview with Vogue, the 23-time Grand Slam champion revealed that although Alexis didn't grow up going to church, "he's really receptive and even takes the lead. He puts my needs first."
Please fill in your e-mail so we can share with you our top stories!