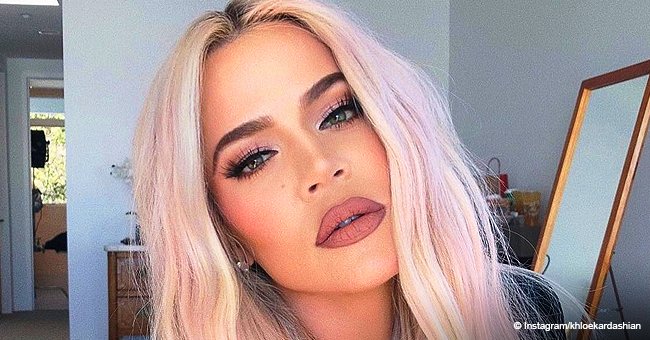 Khloé K.'s daughter melts hearts, wearing black hat & onesie while flashing sweet smile in new pic

Khloé Kardashian, the "Keeping Up with the Kardashians" star, took to Instagram to share a photo of her daughter, True, rocking a beautiful hat.
In the post, the baby appeared sitting on a bed wearing light pink socks, a black onesie, and a matching oversized hat while someone was placing her hands on her leg.
Even though her outfit attracted a lot of sights, the best aspect of the image was True's face as she was smiling in the most beautiful way while trying to remove the hat from her head.
The celebrity wrote in the caption, "my entire heart," with black heart and arrow emoji. As soon as she uploaded that photo, her followers took to the comment section to share their thoughts.
"I can't deal with how cute she looks. That laugh is everything. Cute. Cute. Cute. Cute," admitted one commenter.
"I always knew it in my heart you'd be the best mommy ever, Khloe. You've been such a wonderful auntie to the other munchkins," wrote a second user.
"True is absolutely gorgeous! And what a personality already!" pointed out another person.
MELTING MORE HEARTS
It is not the first time that Khloé and Tristan's only daughter melted everybody's hearts on social media, though. Last week, the proud mother shared a slideshow of True in a cashmere Burberry dress celebrating her 10-month birthday.
In the first image, True appeared sitting on a mattress wearing beige construction boots, pink socks, a cashmere, pink, Burberry dress, and a beanie hat. The baby's face showed that she was quite entertained by something in front of her.
For the second pic, the girl was standing in front of a bookshelf while flashing a beautiful smirk at the camera. In the caption, the proud Khloé wished her daughter a happy 10-month birthday.
TRYING TO SAY "MAMA"
Over the weekend, Khloé surprised her followers with a cute video trying to get True to say the word "mama." In the clip, the mother-of-one is heard saying, "say mama, say mama," with a voice filter.
The girl, who is only 10 months old, didn't say anything but clapped and laughed. Khloé wrote in the clip, "she thinks it's funny to not say 'Mama,'" followed by a rolling-eye emoji.
PARTING WAYS?
At the moment, Khloé and Tristan are allegedly separated. As Daily Mail reported, some of the messages that the TV star has shared on social media about learning from her mistakes make people believe so.
Apart from that, the last time the couple was seen together was in mid-January. Finally, on Valentine's Day, Khloé uploaded photos of True and not a single one with Tristan. So far, neither the "Keeping Up with the Kardashians" star nor the NBA player has confirmed or denied the allegations.
Please fill in your e-mail so we can share with you our top stories!