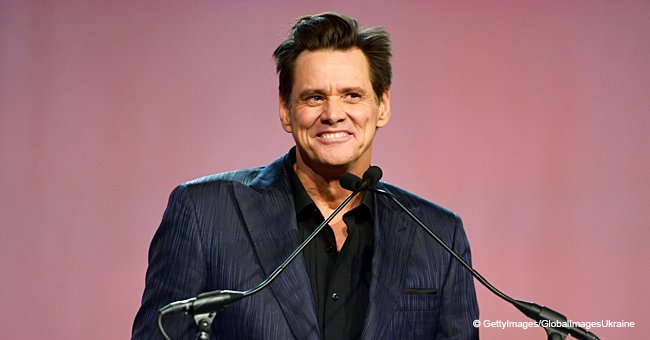 Jim Carrey shares a bizarre cartoon of Trump's 'birth' calling it the 'real State of Emergency'

Comedian and artist Jim Carrey lampooned President Donald Trump once again regarding the State of Emergency.
Actor-artist Jim Carrey has once again targetted President Donald Trump in one of his cartoons.
The "Ace Ventura" comedian is a well-known opponent and critic of the President and pulls no punches in his satirical cartoons.
THE REAL STATE OF EMERGENCY ACCORDING TO JIM CARREY
According to Jim Carrey, the State of Emergency started on June 14, 1946, when Mary Anne MacLeod Trump gave birth to her fourth child, Donald, at the Jamaica Hospital Medical Center in Queens, New York.
Carrey depicts the moment of that birth in his cartoon, showing the mother's straining belly, and the doctors holding up a pair of hairy legs with cloven hooves.
The actor captioned the cartoon:
"Definitely not human."
A series of Carrey's satirical images of President Donald Trump were included in the Outsider Art Fair in New York.
THE STATE OF EMERGENCY AND THE BORDER WALL
Carrey's latest attack on the President is a reaction to the recently declared State of Emergency through which Trump intends to access the funds Congress has refused him for building the wall on the US-Mexico border.
THE LONGEST GOVERNMENT SHUTDOWN IN HISTORY
The President has certainly provided plenty of fodder for Carrey's satire. In December 2018, President Trump initiated a government shutdown in response to Congress' refusal to give him the $5,7 million he demanded for his border wall project. The shutdown would prove to be the longest in US history, and left 800,000 federal workers without a salary.
CARREY AND TRUMP: NATURAL ENEMIES
President Donald Trump is a Republican, and Carrey is a Democrat, and their political views are just not compatible.
Since Trump's election in 2017, he has been Carrey's favorite target, on which he hones his admittedly sharp wit. It looks as if his pen is just as sharp and cutting as his tongue.
CARREY MOCKS TRUMP'S DEDICATION TO GOLF
In another sharp critique of President Donald Trump's recent revelation that he was declaring a State of Emergency on the border between the US and Mexico, Jim Carrey shared yet another hilarious political cartoon.
In the cartoon, an overweight Trump raises his golf club high, preparing to strike. In the lilac background, Carey printed:
"Stuck In The Rough? Declare A National Emergency!"
Carrey is slyly alluding to the fact that Trump, who was seen at the omelet bar at his Trump International Golf Club in West Palm Beach, Florida, the day after he announced the national emergency.
Carrey captioned his cartoon:
"Great news! The Epic National Emergency at our border has had no negative impact on The Leader's golf game."
A series of Carrey's satirical images of President Donald Trump were included in the Outsider Art Fair in New York.
In a related story, Jim Carrey reacts to the situation of Kentucky teens wearing 'MAGA' hats with a mocking new picture.
Please fill in your e-mail so we can share with you our top stories!