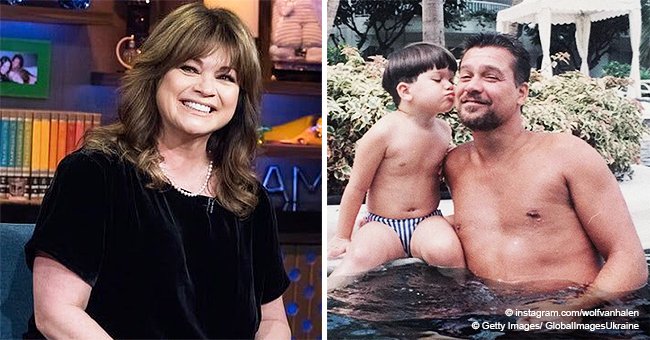 Valerie Bertinelli son is all grown up and following in his father's footsteps

Wolfgang William Van Halen, son of actress Valerie Bertinelli and guitarist Eddie Van Halen, has not only made a name for himself in the music industry but is also following the footsteps of his father, in being a bassist for Van Halen.
The 27-year-old was born on March 16th, 1991 and his parents named him Wolfgang Amadeus Mozart., after the classical composer. Not just did he have the honor of this name, he's been a major impact on his dad's career. That we're sure of.
When he was 13 years old, his father dedicated an instrumental record "316" to his birthday. Not just that, he also got a customized guitar named after him, the Fender EVH Wolfgang.
Remember that Wolfgang had said that when he was much younger, he didn't know his dad was famous till he started seeing CDs in the house with Eddie written on them, and his dad's picture.
Yes! That happened.
Well, as he was in the midst of talented parents, it was not so hard for him to find out what he was good at too. At 9, he started playing drums. Later, he moved on to guitars, before finding his love for the bass. Besides all this, he can also play the keyboard too. Talk about talent.
Wolfgang at first thought playing the bass was easier than playing the guitar, but eventually, he changed his mind and realized there was more to it after all.
His style has been described as "rhythm bassist and rhythm guitarist put together". It is unique thats for sure. The basses he uses are custom made just like his fathers'.
At 27, Wolfgang became the youngest member of Van Halen, although he was formerly a bassist for the heavy metal band Tremonti.Because he was so young and still new to the bad, Wolfgang had a study room designated for him.
He reportedly had to get 3-4hr training sessions before gigs, while the band was on tour.So, not only does he shift towards his father's career, but he has also found time to be there for his mum, Valerie too.
Valerie is known for her role in the sitcom, One Day at a Time, as Barbara Cooper Royer but since 2015, she has hosted the cooking shows Valerie's Home Cooking and Kids Baking Championship on Food Network.
Her son has occasionally shown up on Valerie's Home Cooking show, where she even got to cook him his favorite meals.Bet you didn't know his favorite meals are pasta e Fagioli, turkey meatloaf, roasted broccoli rabe, and pumpkin pudding. Well, now you know.
Please fill in your e-mail so we can share with you our top stories!