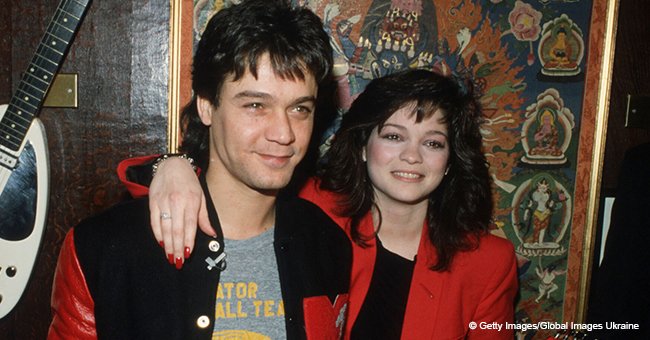 Valerie Bertinelli and Eddie Van Halen's wedding day was actually really sad
Rock star Eddie Van Halen and his wife of 26 years, Valerie Bertinelli, tied the knot in the early eighties but it wasn't all sunshine and roses.
Van Halen's band manager, Noel E. Monk, revealed in his book, "Runnin' With The Devil," that their wedding ceremony was just another workday.
It was a performance Van Halen had to put on for the rest of the world, just like any other concert, Monk claimed, and Monk was there to keep the peace.
Between band rivalries and Van Halen's escalating substance abuse and cocaine addiction, Monk had his hands full..
Monk also had to control the paparazzi who gathered outside the St. Paul's Catholic Church in Westwood, California, where the ceremony took place.
Bertinelli and Van Halen had a fairytale relationship when they began dating, but it went downhill fast, especially after Van Halen was slapped with a paternity lawsuit from a groupie.
Monk convinced Van Halen to take the paternity test, which turned out to be negative, but that was only the start of the couple's problems.
On their wedding day, Monk found a drunk Van Halen in the venue's bathroom, with Bertinelli in tears as she held his hair back over the toilet.
Van Halen was drunk and Bertinelli's day was ruined. Nevertheless, the ceremony went on, and Bertinelli helped Van Halen to his feet.
She cleaned him up and helped him down the stairs to the ballroom where the couple exchanged vows in front of their family and friends.
Despite how their wedding day began, they remained together for nearly three decades. The couple welcomed their son, Wolfgang in 1991, but separated ten years later.
Their divorce was finalized in 2007, and Van Halen voluntarily entered rehabilitation for unspecified reasons that same year.
In 2008, he proposed to Janie Liszewski. Bertinelli and their son, Wolfgang, attended the wedding and the ceremony was officiated by Van Halen's brother.
Bertinelli tied the knot with her second husband, Tom Vitale, in 2011. Van Halen was a guest at their ceremony in California.
He is still her favorite cooking partner, and Bertinelli said in an interview:
"He's very, very handy in the kitchen. He always knows how to make a mean cocktail while we're cooking."
Please fill in your e-mail so we can share with you our top stories!