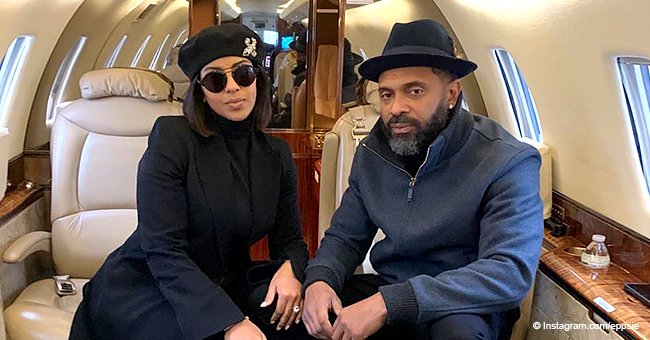 Mike Epps shares rare photo with his 'Queen' who 'looks like Tami Roman' in all-black ensemble

Eight months after his divorce from former wife Mechelle, Mike Epps introduced another woman as his fiancee, and they've been going strong since. While it's not frequent for the couple to share photos of one another, Mike and his fiancee Kyra Robinson treat their fans with a few photos once in a while, and in this most recent one, he called her his "queen."
Their latest photo together showed the lovely couple sitting onboard a private jet, casually posing beside one another. They made sure to dress in matching outfits, consisting of all-black clothing.
While the photo in itself looked stunning, someone was quick to notice the uncanny resemblance between Kyra, Tami Roman, and even Kim Kardashian, but a few others commented that she looked a lot more like the late singer Aaliyah. Fans started to share their observations on the post's comment section, saying:
"@pretznglitzdiva: She looks like Tammy Roman"
"@shadowskill92: So everybody just gonna ignore the fact that his queen look like Aaliyah in this pic?"
"@gabe_wtf_seriously: My G! I thought that was Aaliyah 4 a sec, low key. Keep doin u bro"
"@essentialthebrand: Your queen looks like Aaliyah"
"@menof2020: Kim Kardashian"
Mike and Kyra are living proof that it's possible to find love again after such a tiring and gruesome divorce. The pair made their relationship public in summer 2017, just eight months after Epps' divorce was finalized. Since then, they've been open to their fans about the things they've gone through. On May 2, 2018, Mike asked Kyra to marry him and the rest is history.
While they have yet to announce the date of their wedding, their fans have been wishing them nothing but the best in this newest chapter in their lives, as it is clear that the lovely couple is absolutely head-over-heels-in-love with one another.
Please fill in your e-mail so we can share with you our top stories!