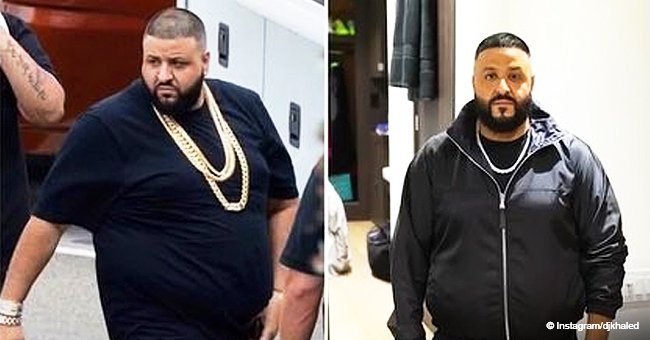 'I ain't stopping,' DJ Khaled shows off slimmer figure in new video after his 43-pound weight loss

DJ Khaled has been hard at work at the gym, and he recently shared his weight loss progress in a series of posts on Instagram. According to him, he's lost a total of 43 pounds, and he doesn't plan to stop anytime soon.
Proud of what he has accomplished, the producer took to Instagram to celebrate the great progress he's had since trying to lose weight a year ago. In a lengthy post, he shared how he previously told his fans that he would be shedding some weight beginning that day. Now, he's come back with an update about how that's been going for him.
"A year ago I told y'all it's coming OFF! I started at 293 lbs and now I'm OFFICIALLY 250 lbs!! They CALL ME SLIM JIM!! Thank you @ww for changing my life!! And i ain't stopping! We gon keep winning with the Freestyle Program!! I promise you!! It's coming OFF! Join me and win with me on @WW. The new Weight Watchers. I'm not racing! I'm not speeding! I'm cruising!"
In January 2018, Khaled announced that he was the newest ambassador of the WW weight loss program. Last month, he revealed that he lost a total of 34 pounds, and now, he's lost 43 pounds.
With the impressive results that he's shown, DJ Khaled is definitely not stopping now and is motivated to continue until he is satisfied with how his body looks. After all, it's not just about the looks for him, but for his health as well, especially now that he has a young child to raise.
Just recently, the DJ's 2-year-old son Asahd was invited to Kylie Jenner and Travis Scott's daughter Stormi's first birthday party. Of course, with little Asahd wearing nothing but designerwear, sporting Versace, Rolex, Gucci, among many others, DJ Khaled knows that Stormi deserves nothing but that as well.
That's why after realizing that Kylie and Travis have been showering their little girl with designer wear and limited edition items, he decided to give her a memorable present that even her parents would enjoy. Opening the gift in front of a camera, Kylie exclaimed excitedly upon seeing the package.
"Oh my goodness, Stormi! Your first Chanel!"
While the Websters seemed impressed, his fans definitely weren't, as they claimed it was impractical and inappropriate.
"Bruh a baby doesn't want or need a Chanel bag. Get her a toy, a stuffed animal, something she can have fun with!!!'
Regardless of what people had to say, DJ Khaled, Kylie, and Travis will continue to gift their kids with whatever it is they want, not only because they want to, but because they can.
r
Please fill in your e-mail so we can share with you our top stories!