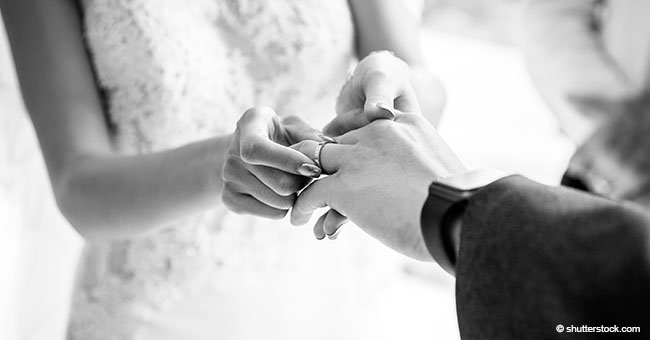 Couple changes wedding plans after their dog is diagnosed with cancer
A couple decided to greatly anticipate their wedding day just so their dog, Brucie, who is terminally ill, could attend the ceremony.
Danny and Estelle Harris, from Derbyshire, in the U.K., were supposed to tie the knot in May of 2019, but the awful news forced them to take action.
It has been reported that the couple sacrificed a deposit, catering and several guests just so Brucie, who was given up to four months to live, could be a part of the special moment.
A STREAK OF BAD LUCK
The sad story started back in December of 2018, when Brucie, a 5-year-old Bullmastiff, had to be rushed to the hospital with white gums and blue tongue, both common signs of oxygen depletion.
The vets would have to perform a pleural effusion, a procedure to drain the fluid surrounding Brucie's heart and lung but, during the process, they found a massive tumor in his chest.
Danny and Estelle were advised to say goodbye to Brucie given the high level of danger the removal surgery involved. Fortunately, the Bullmastiff made it through but luck was not on his side.
Brucie was diagnosed with a hemangiosarcoma, a particularly aggressive cancer. Learning that he only had four months to live was devastating, especially to Estelle, who has known Brucie ever since he was a puppy.
But if the 5-year-old pooch only had a few months ahead of him, they wanted to make them the best months of his life and create memories with him.
A SMALL BUT BEAUTIFUL WEDDING
So Danny and Estelle tied the knot at Burton Registry Office three weeks later, with only a few guests being able to attend. To the bride, it was all worth it just to have Brucie there, who wore a matching outfit with Danny.
Brucie was only at the ceremony for an hour before getting tired and having to return home to rest, but they managed to take great photos with him and he certainly enjoyed his time around the guests.
The Bullmastiff is currently on his second month out of the four he was given and, according to Estelle, he is "doing really well at the moment" thanks to a couple of dietary changes.
A VERY SIMILAR STORY
People create beautiful bonds with their animals, to the point where they're no longer pets but members of the family. Just like Estelle and Danny, Paul Heroux went to great lengths to spend some time with his buddy Mura.
The 10-year-old Japanese wolf-dog was diagnosed with the same cancer as Brucie in November 2018, s her owner took her on a cross-country trip that passed through 24 states and Canada.
According to Heroux, Mura's cancer has not taken over her yet and has not metastasized, which is great news for the pooch, who is still enjoying life alongside her human.
Please fill in your e-mail so we can share with you our top stories!