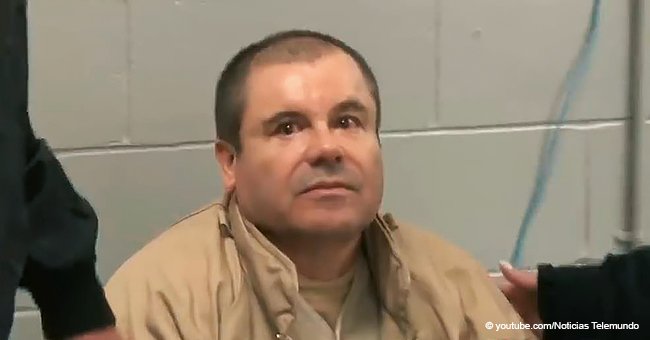 Video shows a rare look at El Chapo when he was being extradited; desperate and crying

Following the trial on which the Mexican drug lord was found guilty on ten counts related to drug trafficking, the US Department of Justice released a video that shows "El Chapo's" vulnerable side as he was extradited.
The clip, shared by Mexican news outlet Telemundo, starts with the 61-year-old former leader of the Sinaloa Drug Cartel sitting inside the airplane that took him from Mexico to the US in 2017 under DEA custody.
Joaquín Guzmán can be seen through the aircraft's window as he shows a blank stare, probably trying to assimilate what is happening to him at that moment.
But the most commented aspect of the footage is a fragment that gives the public a glimpse of the convicted criminal's human side, as he appears to be frightened and disoriented, with tears coming out his eyes.
"It is a big contrast to the idea we had of [Guzmán being] a cold-hearted, self-confident man who fears nothing. He looks distracted, and even docile as the DEA agents talk to him. He even, for once, looks his age."
-Noticias Telemundo, February 12, 2019.
When Guzmán was sent to the US to be put to trial, he probably knew that his years of impunity had ended. There was no underground tunnel, no bribing, no drug cartel that could have saved him from facing justice.
The released footage seems to have captured those moments on which the once untouchable criminal was coming to realize his fate.
"El Chapo" was determined to be responsible of bringing tons of illegal drugs to the US for as long as 25 years, and although his sentence is still unknown, he is likely to be condemned to a life in prison.
He was both admired by the Sinaloa community where he belonged and feared by his enemies who fought for control of the drug trafficking routes to the US. Guzmán managed to expand his business to all continents.
The drug lord had been previously imprisoned twice in Mexico. First, he was sentenced to 21 years for drug trafficking but escaped after serving only eight months in 2001.
Following this, he teamed up with other drug lords to create the infamous Sinaloa drug cartel, which became an empire after it secured the US market.
He kept running from the authorities until 2014, when Mexican Army officials supported by the DEA caught him in a Sinaloa touristic spot, only for him to escape once again in July 2015.
After his second escape, Guzmán was subject of much media coverage after his controversial meeting with American actor Sean Penn and Mexican actress Kate del Castillo, which marked the first time Guzmán was photographed since 1993.
Shortly after, he was caught again, but this time he was extradited to the US to face trial in the country, after spending years as America's most wanted following the death of Osama Bin Laden.
Now that Guzmán has been found guilty of all charges against him, a new controversy surrounds him as Senator Ted Cruz is proposing that "El Chapo" should pay for the wall along the southern border promised by Donald Trump.
"U.S. prosecutors are seeking $14 billion in drug profits & other assets from El Chapo which should go towards funding our wall to #SecureTheBorder," Cruz tweeted on February 12.
Please fill in your e-mail so we can share with you our top stories!