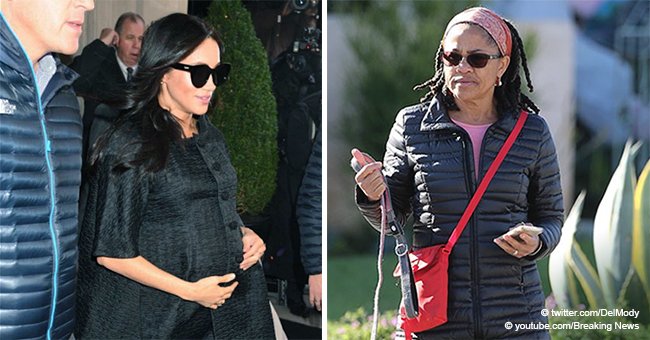 Meghan Markle's mother pictured walking in LA; she didn't attend the Duchess' baby shower in NYC

With the Duchess of Sussex in New York during a five-day trip, Doria Ragland stayed at home and pictured walking her dog on the day of Meghan's baby shower.
The heavily pregnant Meghan headed to the United States where fifteen of her closest friends came together in New York to throw her a baby shower.
Meghan left for her unannounced trip to New York on Friday, February 15, and spent time with friends ahead of the main event that took place on Tuesday, February 19.
Most of the details regarding her trip, including the official guest list for Meghan's baby shower, remains elusive. One person we know didn't attend the shower thrown by her friends is mum Doria Ragland.
Pictured out and about walking her dog in Los Angeles on Tuesday morning, Doria strolled around the neighborhood snugly dressed in winter boots and a black down parka but seemed distracted by her phone. Fans soon commented on the implied that Doria didn't attend Meghan's baby shower due to some sinister reason or the other, as one fan tweeted:
The soon to be mother attended a lavish shower held at The Mark Hotel, said to be organized by longtime friend and stylist Jessica Mulroney. She flew in from her home in Toronto late last week to make sure everything is perfect for Meghan's shower.
According to the royal correspondent Omid Scobie, the Duchess of Sussex will have a second baby shower. On the day of Meghan's baby shower, Omid and told Good Morning America:
"Today's baby shower is a reunion of sorts for Meghan. [Guests] include best pal Jessica Mulroney, actress, and close pal Abigail Spencer has flown in, and Priyanka Chopra is supposed to be flying in especially for this from London Fashion Week."
But it seems that Priyanka could not get out of her commitments at the Fashion Week as she didn't make it to Meghan's baby shower either. An Instagram post by the Bollywood star on Tuesday placed her Beverly Hills, California at the time.
On Tuesday afternoon the Duchess got pictured leaving the luxurious hotel soon after her former Suits co-star and friend, Abigail Spencer arrived. The two then walked over to the Met Breuer mere blocks away and sat down at the museum's restaurant.
A spokesperson for Kensington Palace would not divulge any details about Meghan's trip other than stating it is "privately funded."
On Monday night fans spotted the Duchess even though she tried to go by unnoticed. Meghan covered herself up with a big black coat and a gray cap. Her hair hung loosely which further obscured the view of her face.
During the course of Saturday Meghan also got spotted out and about as she spent time with friends.
Please fill in your e-mail so we can share with you our top stories!