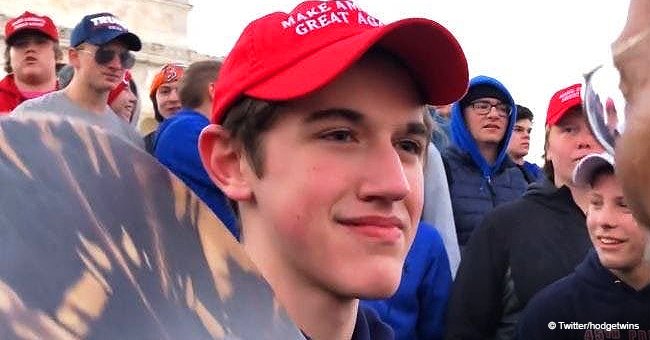 Covington Catholic teen sues Washington Post for $250M, says he was wrongly accused of racist acts
The Covington Catholic teen who went viral last month in a face-off video is suing The Washington Post for $250 million in compensatory and punitive damages, Fox News reports.
Nicholas Sandmann, a 16-year-old student of Covington Catholic High School, Kentucky, was filmed last month in what appeared to be a confrontation with Native American Nathan Phillips while wearing a "make America Great Again" hat.
According to the lawsuit, filed by Sandmann's attorneys on Tuesday in federal court in Kentucky, The Washington Post "wrongfully targeted and bullied" the student, "publishing a series of false and defamatory print and online articles ... to smear a young boy who was in its view an acceptable casualty in their war against the president."
Kris Coratti, The Washington Post's Vice President for Communications, responded to the latest development, saying:
"We are reviewing a copy of the lawsuit and we plan to mount a vigorous defense."
Last month, Sandmann was subjected to widespread outrage after a video of him in a stand-off with Phillips, 64, went viral.
The clip shows Sandmann smiling smugly in front of the Native American who continues to beat his drum in the teenager's face. Sandmann is also surrounded by other students from their private, all-male school.
Private investigators ...submitted last week that the boys did not initiate the confrontation.
The incident took place on January 18 in Washington DC where the boys were gathered for a "March for Life" pro-life rally. Phillips was also attending the Indigenous Peoples' March at the same location.
The Washington Post, in early articles concerning the incident, reported that the schoolboys "surrounded" and "taunted" Phillips, according to Dailymail.com. The paper also reportedly claimed that a "smirking" Sandmann had stood in Phillip's path, blocking him from moving.
Subsequent videos, however, revealed that the boys themselves were victims of racist abuse by a group of Black Hebrew protesters and that it was Phillips who went into their midst to bang his drum.
The lawsuit further claims that The Washington Post "ignored the truth" about the incident and published seven "false and defamatory" articles about it, knowing and intending "that its false and defamatory accusations would be republished by others, including media outlets and others on social media."
Private investigators hired by the Roman Catholic Diocese of Covington submitted last week that the boys did not initiate the confrontation.
The investigators considered several videos from the incident to reach their conclusion, including one of a boy standing with the group of students and yelling:
"It's not rape if you enjoy it."
The investigators said they found that the boy was not a student of Covington Catholic High School.
Please fill in your e-mail so we can share with you our top stories!