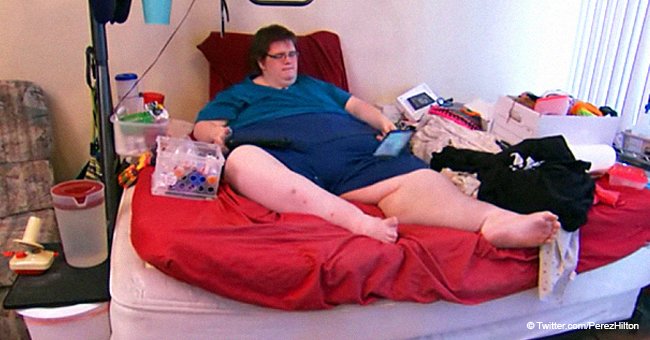 'My 600-lb Life' star Sean Milliken dead at 29 following complications from an infection
Sean Milliken, who peaked at 900 lbs, has died at the age of 29 after fighting complications from an infection.
According to TMZ, Sean Milliken's father Matt told the outlet that he was having trouble breathing on Sunday and though doctors were able to resuscitate him, "his heart stopped" shortly after.
Sean joined the weight loss show in 2016 while he was bedridden and 900 lbs heavy. He had moved to Houston with his mother Renee so he could undergo surgery to curtail his weight gain.
At the time, he opened up about his struggle with weight loss and revealed it started with anxiety caused by his father.
He said his father would back him into a corner and yell at him. This caused him a great amount of fear which he discovered would be relieved when he ate.
"It was scary. So I would eat. And suddenly I felt a lot better. In that moment, nothing else mattered."
Even after Sean's mother divorced his father, Sean's eating habits worsened. According to Renee, her son took the divorce really hard.
Renee also admitted that she may have contributed to Sean's weight problems which started to get worse in high school. He was 400 lbs and strapped to the bed because of a leg injury.
For eight years after, Sean barely left his bed. His mother, who confessed to having an eating disorder herself, tried to compensate for her son's difficulty by getting him treats every time she went to the store.
TLC learned in 2017 that Sean lost 400 lbs after undergoing surgery. While this was a good sign that he was on his way to better days, his mother died that same year.
Renee's death was a big blow to Sean who spoke about his devastating loss during an interview on "My 600-lb Life: Where Are They Now?"
"A couple of months ago my mom went to the hospital because she wasn't feeling well, and she just kept getting worse. They said she had renal failure, and she didn't make it. She passed away a couple weeks ago and I'm devastated, and I don't know what to do now because my mom was everything to me."
Sean is the third participant in "My 600-lb Life" to have died in the last six months. In August, James L.B. Bonner took his life at the age of 30.
He was discovered in a ditch with a gunshot wound after he posted a cryptic message on Facebook alluding to the end of his journey.
Meanwhile, 50-year-old Lisa Fleming, the woman who found maggots on her skin, passed away a month later. Her daughter revealed she was sick and her body was tired but denied she died due to her weight.
Upon news of Sean's death, TLC extended its sympathies to his family and friends through a statement,
"TLC expresses its deepest sympathies to Sean's friends and family at this difficult time."
Please fill in your e-mail so we can share with you our top stories!