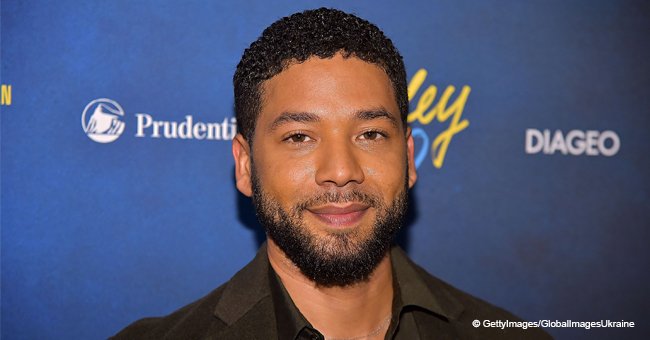 Jussie Smollett arrested for allegedly faking report about homophobic and racist physical attack

The "Empire" actor, Jussie Smollett got arrested on February 21 on charges of staging a physical attack on himself.
The alleged attack against Jussie took place during the early morning hours of 2:00 am on January 29, 2019, when two men attacked him. One of the men reportedly wore a mask as they yelled homophobic and racial slurs at Jussie.
They reportedly tied a rope around his neck and poured an unknown substance over him and said, "This is MAGA country."
After Jussie reported the incident he received an outcry of support from prominent figures in politics and the entertainment industry. Support from the public poured in while many pointed out the rise in hate crimes. White House speaker Nanci Pelosi was one politician that publicly spoke up for Jussie, but then deleted it later, which didn't go unnoticed:
In the days that followed police could not find any surveillance video from the cameras in the area to corroborate the story, nor were there any witnesses.
Social media started questioning his claims, but when police found two men who appeared on a video in the area close to the time of the alleged assault, matters took a turn.
The two men turned out to be brothers Ola and Abel Osundairo. They had previously worked on "Empire" as extra's and knew Jussie beforehand. Police questioned them both but got released without any charges.
The following day word spread that the brothers had told investigators Jussie hired them to beat him up for publicity.
On Wednesday Chicago police confirmed their suspicions of a hoax and arrested Jussie the next morning. According to the chief spokesman for the Chicago Police Department, Anthony Guglielmi, Jussie is "in custody of detectives."
He got arrested on a felony charge of disorderly conduct for filing a false police report in claiming he got attacked. If found guilty he can face up to 3 years in prison. Jussie's representative had not made any comments on recent developments.
Jussie's lawyers issued a statement and said:
"As a victim of a hate crime who has cooperated with the police investigation, Jussie Smollett is angered and devastated by recent reports that the perpetrators are individuals he is familiar with. He has now been further victimized by claims attributed to these alleged perpetrators that Jussie played a role in his own attack. Nothing is further from the truth and anyone claiming otherwise is lying."
The "Empire" actor's bond hearing is set for 1:30 pm CST on Thursday 21 February 2019.
But according to reports Jussie hired the two brothers and together they staged the whole incident carefully.
Please fill in your e-mail so we can share with you our top stories!