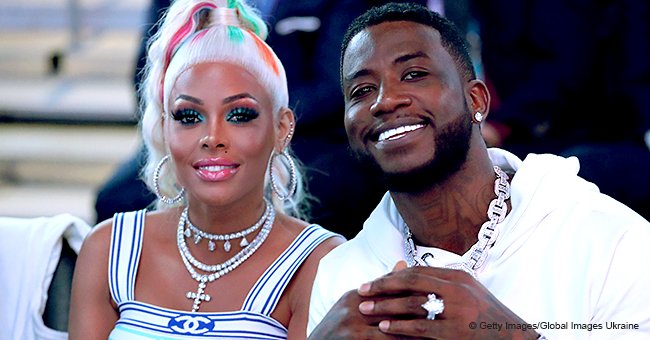 Keyshia Ka'oir & Gucci Mane turn heads in color-coordinated designer clothes in pic from date night

Gucci Mane and Keyshia Ka'ori Davis had front row seats to this year's NBA All-Star game, and they definitely knew that they had to look all glammed up for seats that good. In this case, they wore color-coordinated designerwear to the event, which also doubled as one of their date nights.
While Keyshia opted for a multi-colored dress from Chanel which she matched with Chanel socks and white heeled boots, Gucci Mane sported a designer hoodie, white sweatpants, and matching sneakers. What was common between both of them aside from their white ensembles, however, were the sparkling diamond jewelry that they were wearing.
The rapper and his gorgeous wife wore diamonds on their wrists, fingers, neck, and ears, which could easily be worth millions of dollars altogether.
In fact, just recently, Gucci Mane spent seven figures on his Valentine's Day gift for his wife. The 39-year-old purchased a mindblowing 60-carat diamond ring which he gave to her during the special event. He made sure to share a photo of the massive rock on Instagram, saying that the ring he bought was to "make up for all Valentine's Days he's missed."
"To my beautiful wife @KeyshiaKaoir Davis. For all the Valentines I missed I wanted to upgrade your wedding ring to this 60ct flawless oval ROCK."
Of course, Ka'oir also posted about the rock on her own Instagram, saying that she is in awe with what he's given.
I'm still in awwwwwww!!! WOW! OMG !! My husband ! My love ! Thank u ! Thank u @laflare1017 & thank u @pristine_jewelers for such quality work!! Platinum 60ct!! She's so heavy! I'm blessed & humbled ! I love u baby. I was told to wear my other wedding ring on my right hand"
Gucci Mane and Keyshia have been together since 2010, even staying together during the rapper's stint in prison from 2014 to 2016. They had an extravagant wedding in 2017, which caused luxury to be one of their trademarks to their fans.
Please fill in your e-mail so we can share with you our top stories!