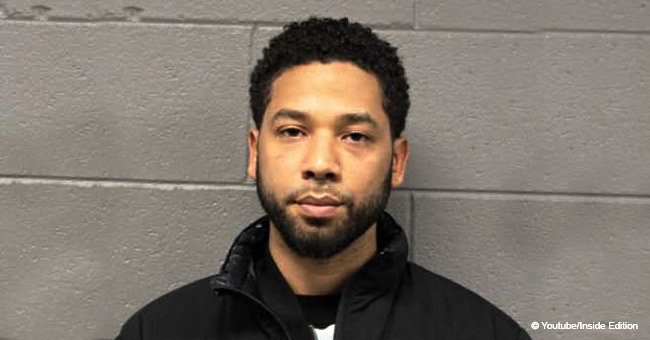 Jussie Smollett's mugshot released following arrest for allegedly making up hate crime attack
Jussie Smollett has been arrested on felony criminal charges for Disorderly Conduct and Filing False Police Report.
Just 3 weeks after he first reported that he had been the victim of a hate crime to Chicago Police, Jussie Smollett faces criminal charges and is in custody in Cook County
In the midst of a wave of anger from his former celebrity supporters, Smollett is being accused of making a false police report. Why, is still a mystery, as the actor-singer of "Empire" will undoubtedly see his career implode after this incident.
ARRESTED AND HELD IN CUSTODY
Smollett was arrested on February 21, 2019, and his bond hearing is scheduled to be held on the same day.
He was dully processed and his mug shot has been released to the media. The 36-year-old man who was a hero just days ago is now accused of faking a hate crime in order to promote his career.
Detectives discovered evidence indicating that Smollett had paid two Nigerian brothers who worked with him in "Empire" $3,500 to stage the attack.
THE HATE CRIME JUSSIE SMOLLETT REPORTED
Smollett, who is Black and gay, reported to Chicago Police he had been attacked outside his apartment building by two white men in ski masks, who doused him with bleach and placed a noose around his neck.
According to Smollett his attackers spewed racist and homophobic slurs and declared: "This is MAGA country."
POLICE INVESTIGATION REVEALS WEB OF LIES
Chicago police started investigating the incident and discovered that they could find no footage of the attack or the attackers on any of the security cameras in the area.
Later, detectives discovered evidence indicating that Smollett had paid two Nigerian brothers who worked with him in "Empire" $3,500 to stage the attack. Police even found financial records that proved that the brothers had purchased the rope found around Smollett's neck.
"We can confirm that the information received from the individuals questioned by police earlier in the Empire case has, in fact, shifted the trajectory of the investigation."
THE "THREATENING LETTER" IS BEING INVESTIGATED
Smollett's legal problems may extend to federal charges since the FBI is now investigating a threatening letter the actor received from "MAGA" on January 20 at the "Empire" set.
If the letter is proved to be a hoax, Smollett may face up to 5 years in federal prison for Mail Fraud, in addition to up to 3 years in a state penitentiary if he is found guilty of falsifying the police report.
JUSSIE SMOLLETT HIRES CELEBRITY ATTORNEY
Jussie Smollett will be facing an uphill legal battle to prove his innocence, with evidence piling up and charges multiplying.
He has also angered the people who had supported him, and many claim his greatest crime is casting doubt on the veracity of other victims of hate crimes.
Smollett is gathering a team of lawyers for his defense and in addition to Chicago attorneys Todd Pugh and Victor Henderson, he has called in Mark Geragos.
Geragos is a Los Angeles lawyer known for handling sensitive celebrity cases such as those of Michael Jackson, Winona Ryder, and Gary Condit.
In a related story, Cardi B is just one of the celebrities lashing out at Jussie Smollett for allegedly reporting a false attack.
Please fill in your e-mail so we can share with you our top stories!