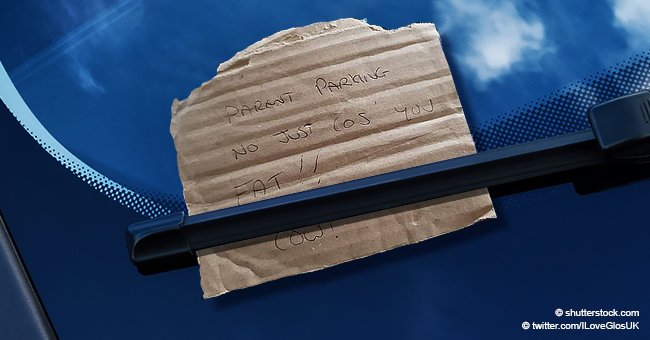 Mom 'mad' as stranger leaves offensive note under her windshield wiper in a parking lot
A 25-year-old mother faced abusive remark from strangers, who left a hurtful note under the wiper of their car parked at Tesco Extra.
Ayesha Chambers from Cirencester, Gloucestershire was shopping for some groceries along with her partner, Fran, and ten-month-old son, Freddie, when someone planted the note in her car.
The poorly-written scrawling on the note read: "Parent parking no just cos you fat!! Lazy cow."
After reading the note, Chambers was as confused as she was hurt. She could understand the frustration if she didn't have her baby with her. But since she had her baby with her, she could not understand the reason for hate.
"If we had parked there without a child I would have accepted being called a cow for using parent parking, but we had Freddie there," Chambers said.
She also stated that the note offended her partner as well, who immediately went "very quiet."
Chambers, who recalled feeling "mad" by the incident, added that a man had started speaking "rudely" to her and her partner when they parked at Tesco.
She explained that Fran drove the wrong way by accident and attempted to enter the car park through the exit.
The rude man then screamed at her, "You do know that is the entrance, not the exit? You have got a child in your car, you'd better be careful."
Daily Mail reported that Chambers took to a Facebook group to complain about the issue. She wrote, "Faith in humanity has yet to be restored."
Previously, another woman also got into a similar kind of trouble when she was inside her car with her baby at a parking lot.
The Hispanic mother, who had kept her baby in her car seat, was approached by another woman and scolded for allowing sun rays to hit the baby's face.
Last year, a mom from Lanarkshire, Scotland was also abused on the internet after she posted a video of giving her toddler some "wine."
Please fill in your e-mail so we can share with you our top stories!