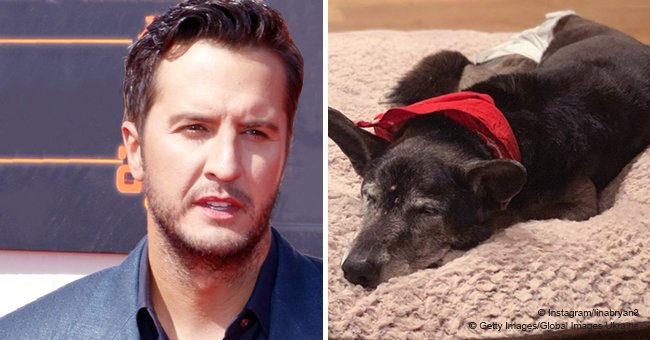 Luke Bryan's rescue dog dies 9 days after adoption, and here's the family's touching tribute
Poochie was not part of the Bryan family for long before he passed, but a touching tribute in his honor showed how much he crept into their hearts.
When Luke and Caroline Bryan read about Poochie's plight on social media, they immediately set things in motion to adopt him. The Australian mixed dog landed at Proverbs 12:10 Animal Rescue after his previous family became allergic to him. Poochie was already 18-years-old, and people at the center thought he would live out the rest of his life with them, "but God had different plans."
Excited, the family brought Poochie to their Tennesse home on February 9 after the adoption went through, where he loved to spend time outside running around on the farm.
The Nashville based rescue center posted an update on Poochie on social media, happy and grateful that he a loving found a home:
The story of Poochie is heartwarming but sad at the same time. On Wednesday, February 20, Poochie passed away. He was surrounded by loved ones instead of spending his last days at a rescue center.
The Bryan family loved Poochie from the get-go, and it was with sadness that Caroline announced his passing on Instagram:
It is a privilege to love these creatures, as Caroline aptly thanked the rescue center for "giving our family the opportunity to love this sweet dog." For the Bryans, it's all about family as Luke reiterated after the birth of his youngest, Tatum who is now eight years old:
"It all begins with family. It's more important than anything else in life."
The couple has two children, young Tatum and then 11-year old Thomas, but Luke's 17-year-old nephew, Til lives with them as well.
The singer had a long road before he got to where he is today. At the age of 12, Luke already knew what it meant to put in a hard day's work. At a local grocery store in Leesburg, Georgia called Rubo's, Luke cleaned and stocked merchandise.
Luke learned solid lessons in life, and today he is a country star, a father, a husband, and so much more. The singer lives a rich and full life, and according to Jason Aldean, he took his commitment to Caroline to a whole new level.
The fellow country star dissed on Luke during a tour in 2012. Luke had gotten a tattoo of Caroline's initials on his buttock while on tour and complained that it was itching. Aldean then saw the tattoo when Luke showed him the source of the itch.
The couple met while they both studied at Georgia Southern University in Statesboro in 1998. And judging by Luke's tattoo, they are still crazy about each other. According to Caroline, there are two secrets to a happy marriage and shared them late last year.
Please fill in your e-mail so we can share with you our top stories!