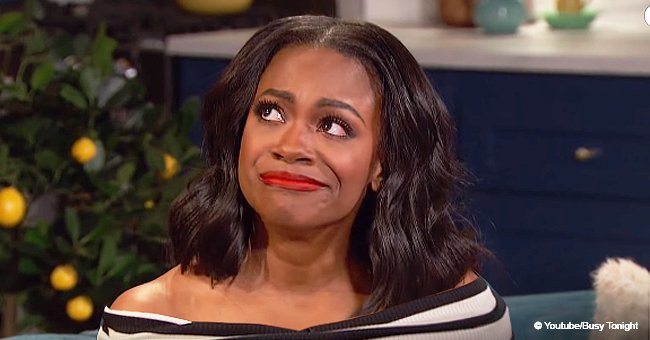 Kandi Burruss breaks down in tears as she reveals Andy Cohen's advice on surrogacy

Kandi Burruss opened up about Andy Cohen's sweet advice on becoming a mother again via surrogacy.
On February 18, 2019, Kandi Burruss of "Real Housewives of Atlanta" opened up on "Busy Tonight" about a very emotional issue - becoming a mother again.
The reality star, 42, was moved to tears as she spoke to host Busy Philipps about recent dad Andy Cohen's advice on the subject.
"I said something about, 'Well I guess I'm going to have a baby mama,' and he said to me, 'Don't you ever say that, because you are a mother, and to say she's your baby mama is taking it away from you.'"
STRUGGLING WITH INFERTILITY
Kandi, who has undergone surgeries for fibroids, benign lumps or tumors that can cause complications with conception, had been discussing her options with Cohen and inadvertently revealed her insecurity at her inability to carry her own baby.
Cohen firmly told her that not carrying the baby didn't make her any less a mother:
"That's a beautiful gift that she can give you to carry your child, but it's your baby,"
The baby is not the surrogate's biological child and is handed over to the parent or parents at birth.
THE STRUGGLES WITH IN VITRO
Like many women who are dealing with infertility, Kandi has been through the agonizing trials of taking the hormones to stimulate ovulation, the mood swings, and the long waits - to no avail. For Kandi, like so many others, surrogacy may be the only way to have another child.
THE DEAL WITH SURROGACY
For many people eager to be parents, but without the possibility of carrying their baby, surrogacy has become a godsend.
In surrogacy, a woman agrees to be implanted and carry to term a baby conceived in vitro. The baby is not the surrogate's biological child and is handed over to the parent or parents at birth.
KANDI BURRUSS MAY SOON BE A MOM AGAIN
Kandi already shares a son, 2-year-old son, Ace Wells, with husband Todd Tucker. Tucker also has a daughter from a previous relationship, Kaela, 22.
Kandi shares a daughter Riley, 16, with former boyfriend Russell Spencer of Block Entertainment.
Kandi and Todd are in the process of finding a surrogate for their two female embrios. If all goes well, the Burruss-Tucker clan is about to grow.
ANDY COHEN'S PERSONAL EXPERIENCE WITH SURROGACY
What Kandi Burruss didn't know when she had her chat with Andy Cohen was that the talk show host was already expecting a child - through a surrogate.
Cohen, 50, who is gay, decided to become a father and chose surrogacy. The celebrity announced that he was becoming a father in December 2018, on a live show.
"I worked with an incredible surrogate. She was in California. Surrogacy is illegal in so many states, including New York. I don't understand why. It's a voluntary process, obviously. My surrogate just viewed it as, she was giving me the ultimate gift. She gave me life. So I'll be forever indebted to her."
On Feb. 4, Cohen welcomed a son named Benjamin Allen Cohen and revealed that the birth was the most incredible experience of his life, and one he had thought he would never have.
Andy Cohen thanked the surrogate who gave him the opportunity of becoming a father.
In a related story, Andy Cohen's posted boastful photos of his newborn son Benjamin's full head of hair.
"I didn't know that he was doing it too, and then when he announced it, he hit me up immediately and said, 'Now you see why I felt so strongly,'" Burruss said.
Please fill in your e-mail so we can share with you our top stories!