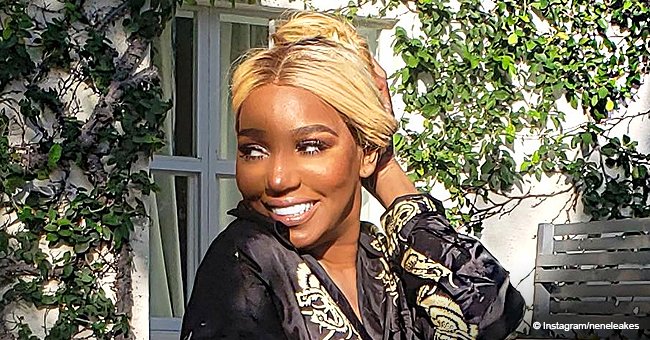 NeNe Leakes shares rare pictures of son Brentt and emotional message on his 20th birthday
NeNe Leakes celebrates her son's 20th birthday by posting cute pictures of Brentt.
Reality star NeNe Leakes has posted a series of unique photos to celebrate her son Brentt Leakes' birthday.
The young man is all grown up and turned 20 on February 22, 2019, and his mom couldn't be prouder.
"A king entered this world on this date after a full day of labor and changed my life forever! Brentt, mom, and dad have loved you from the moment we saw those 2 faint blue lines on a home pregnancy test LOL! You are 20 years old today! No longer a teenager Almost a full grown man making his way in this world (where the hell did time go) As your mom, I want nothing but THE BEST for you"
PROUD MOM NENE SHOWS OFF HER SON
NeNe posted a cute photo of Brentt in a camouflage jacket and wearing a crown on his birthday.
NeNe went on to tell her son how much she loved him, and how proud she is of the young man he has become.
NeNe's fans and followers have been watching Brentt grow up on "The Real Housewives of Atlanta" since 2009
BRENTT GRADUATED HIGH SCHOOL IN 2018
NeNe also spoke of her hopes for Brentt's future and that all she wants is her "pretty baby's" happiness:
"I'm praying you have the best year ever son! I pray you have a clearer vision for your life and future accomplishments! Your super funny and have an amazing personality (you probably got that part from me I'm proud of you and the young man you have become! The door is wide open baby….Walk thru it! Happy Birthday baby boy! Show my son some love y'all. He's the best @kingbrentt #babyboy #prettybaby."
BRENTT GREW UP ON REALITY TV
NeNe's fans and followers have been watching Brentt grow up on "The Real Housewives of Atlanta" since 2009, and sent birthday greetings:
"Happy birthday Brentt! Enjoy your born day and may the Lord continues to bless your future endeavors!"
"He is so cute, @neneleakes.Happy birthday to your amazing, handsome son. The Lord will direct his footsteps."
"The fact that he practically grew up on the show. I'm still remembering his birthday party season one! Happy birthday, man."
NeNe shares sons Bryson and Brentt with husband Gregg Leakes, and has a granddaughter Bri'Asia Bryant, 6.
HOW BRENTT IS DEALING WITH DAD'S CANCER DIAGNOSIS
The Leakes family is reeling from the recent revelation by doctors that Gregg, 63, is suffering from colon cancer.
The focus of the couple's concern is helping their younger son, Brentt, deal with his father's illness:
"We have a 19-year-old and he has not cried one time that I know of unless he's cried by himself. And I'm not concerned; he is a strong teenager. He's a very mature boy, so I feel like I was a little concerned at first — like he hasn't cried or anything, is that a problem? But I think it's OK. I think they're doing good."
NeNe has revealed in June 2018 that Gregg was diagnosed with Stage 3 Colon Cancer and that the diagnosis has shaken the family.
Gregg has four children from a previous relationship; and shares Brentt and another son, Bryson with NeNe.
In a related story, NeNe Leakes had a meltdown over the future of her marriage to cancer-stricken husband, Gregg.
Please fill in your e-mail so we can share with you our top stories!