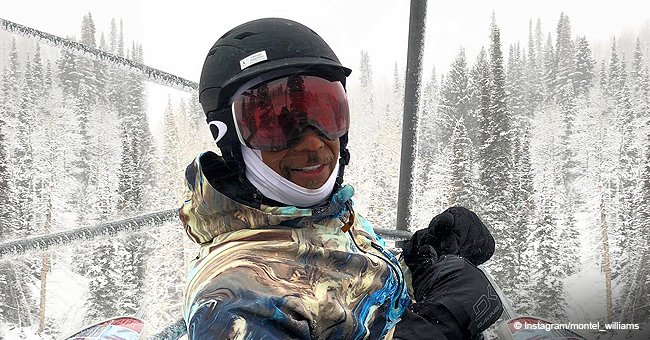 Montel Williams Shares Videos from First Snowboarding Session after Near-Fatal Stroke While at Gym

Montel Williams offfers advice to his fans as he shares clips of his first snowboarding adventure following his life-threatening ordeal last year.
Montel Williams is seeing better days now that he went on his first snowboarding expedition after the stroke that almost took his life.
Williams shared a clip of his latest adventure where he's strapped on a snowboard and showcasing his skills at maneuvering down the slopes of The Canyons in Park City, Utah where he owns a home.
He appeared to be in perfect condition as he revealed in his caption that he feels blessed to be back on the board again.
"Last week, I was able to get back on my snowboard for the first time since the stroke that should have killed me and I'm feeling blessed. #NeverGiveUp"
Williams was also very grateful to fans who wished him well in a second clip he shared where he's speaking to his followers while riding what appeared to be a ski lift. He thanks them for their support throughout his recovery and offers advice on staying positive and healthy.
"Pay attention to your diet, pay attention to your exercise, pay attention to your mental health."
"Take the time for yourself. It doesn't matter what our position is in life. We can overcome anything as long as we set our mind and heart in making sure you do right."
Last year, Williams almost lost his life after he suffered a hemorrhagic stroke while performing dumbbell squats at the gym. While he was well enough to seek help, he called his wife to contact 911 who immediately dispatched an emergency stroke vehicle that happened to be nearby.
Williams' kind of stroke is reportedly the cause of 40% of stroke-related deaths. He was lucky enough to have a quick response team that was able to address his condition before it was too late. The iconic talk show host spent 21 days in the hospital, nine of which in the ICU. He admits it was a wake-up call for him to make healthier choices.
Please fill in your e-mail so we can share with you our top stories!