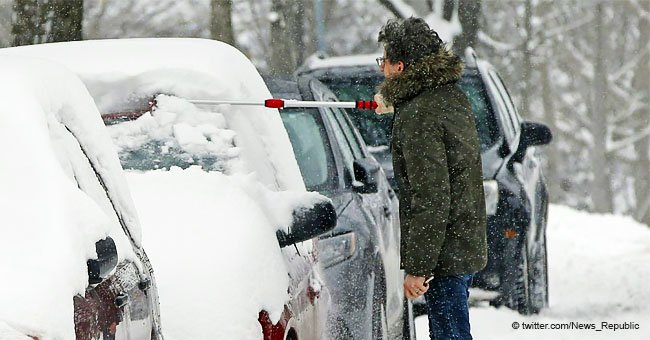 Powerful storm predicted for the south of the US could affect up to 200 million people

A new winter storm will hit much of the country in the coming days with heavy snow, ice and torrential rains that could affect some 200 million people in the United States from coast to coast.
This Tuesday, February 19, the storm left snow in the Rockies and the Plains, including New Mexico, Colorado, and Texas.
It is expected that as the days progress, snow and ice will affect western and central Oklahoma, Nebraska, South Dakota and possibly Missouri and Iowa, according to the Weather Channel.
A narrow area will receive freezing rain which could affect roads in central-western Texas, central Oklahoma, southern Missouri, and northwest Arkansas.
Tonight, the snow could be extended to the northeast at the top of the Midwest and the Great Lakes. A mix of snow, sleet and freezing rain could expand from central Missouri to the Ohio Valley.
This Wednesday, the inhabitants of Washington D.C., Baltimore, and Philadelphia are forecast to receive a strong accumulation of snow in the morning, from 3 to 6 inches, before moving to a mixture of sleet, freezing rain and then drizzle in the afternoon and evening.
This will make the transfer in the morning and afternoon in those cities dangerous.
The city of New York could see up to a couple of inches of snow on Wednesday afternoon before the rain arrives at night.
Snow may affect the afternoon transfer in the tri-state area. The same Wednesday night, snow and ice will spread throughout New England with up to 6 inches. In Boston, snow is likely to turn into rain.
In the south of the country, heavy rains and floods and even some severe storms are expected on Tuesday and Wednesday.
Up to half a foot of rain could flood much of northern Mississippi, northern Alabama, and Tennessee, where there are flood warnings and warnings.
With all the snow that is expected to fall on the northern half of the country, many people should follow this grandma's example.
An 82-year-old woman named Marlene Fisher Downing caught everyone's attention after being photographed snow blowing a driveway.
The Muskegon, Michigan, resident was seen braving the extremely cold temperatures by a neighbor, whose identity is yet to be revealed.
The photo quickly found its way online, not only because of how odd it looks but also because Downing seems to be completely in her element.
In Florida, the unusual heat of early summer is expected to continue on Tuesday and most of the week. In the state of the sun, temperatures could reach 80 degrees.
Several cities in the state set record highs on Monday, including Vero Beach, which hit a record high of 89 degrees in February.
Please fill in your e-mail so we can share with you our top stories!