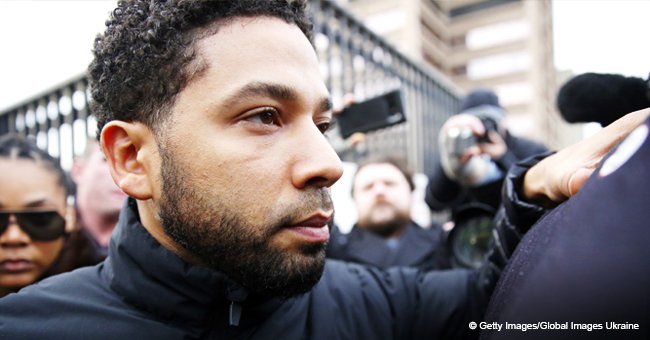 Jussie Smollett Returns to 'Empire' Set Hours after Posting $100K Bail

Jussie Smollett resumed his life as an actor on the set of "Empire" after posting bail and being released from jail. The actor reportedly settled $10k of his $100k bond upon his release.
Following the drama surrounding his arrest and subsequent release on bail, Jussie Smollett went back to work on the set of his show, "Empire."
Smollett, who now faces charges of disorderly conduct after allegedly staging his January 29 assault, returned to the set of his Fox show to complete his remaining scenes for the series' fifth season.
In a startling turn of events, the 36-year-old who first reported he was a victim of a hate crime has now become the suspect in the case. Testimonies from the two men who allegedly attacked him that day revealed the actor (who they know from the set of "Empire") paid them with his own personal check the amount of $3,500 to do the deed.
More evidence later supported the claims of the two men, brothers Olabinjo "Ola" and Abimbola "Abel" Osundairowho were spotted on surveillance camera purchasing the rope used in the attack, the same rope they claimed Smollett paid for.
On Thursday, police confirmed that Smollett's motive for staging the attack was to draw publicity towards him in the hopes of getting a bump in his salary.
That same day, the actor surrendered himself to the police. He was released hours later after he posted a P10,000 bond following a hearing that set his bail at $100,000.
Since his attack, Smollett has been back on the "Empire" set twice. He first returned a week after he reported the crime and the second time was after he posted bail.
He was supposed to work the whole week on the set of the show but producers reduced his scenes in light of the recent events. Fox has been supportive of the actor and even denied he was being written off, as it was suggested to be the alleged reason Smollett staged his attack.
However, with Smollett's recent charges, the network seemed to alter its stance and is now taking precautions. In a statement it released on Thursday, it said,
"We are evaluating the situation and we are considering our options."
Smollett's next hearing will be on March 14. His passport has been revoked.
Please fill in your e-mail so we can share with you our top stories!