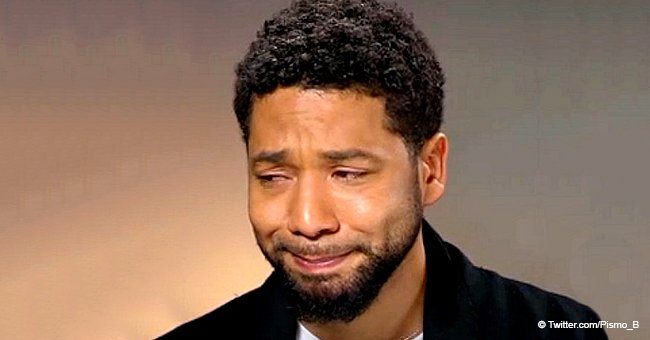 Jussie Smollett classified as official suspect after filing false police report about attack

Jussie Smollett is no longer a victim but is instead the suspect in an attack he appeared to have faked.
Jussie Smollett is officially a suspect in a crime he allegedly faked. Police confirmed this in a tweet as the original suspects were set to face a grand jury to testify on the case.
On Wednesday, the Chicago Police, through its spokesperson Anthony Guglielmi, issued an update on Twitter revealing this development.
"Case Update: Jussie Smollett is now officially classified as a suspect in a criminal investigation by #ChicagoPolice for filing a false police report (Class 4 felony). Detectives are currently presenting evidence before a Cook County Grand Jury."
A follow-up tweet was sent confirming that felony charges were made against Smollett.
"Felony criminal charges have been approved by @CookCountySAO against Jussie Smollett for Disorderly Conduct / Filing a False Police Report. Detectives will make contact with his legal team to negotiate a reasonable surrender for his arrest."
The pronouncements came after a series of reports cast doubts on Smollett's version of the events beginning with the original suspects' admission that it was the actor who hired them to attack him.
HOW SMOLLETT WENT FROM VICTIM TO SUSPECT
On January 29, Smollett reported to the police that he was attacked by two male suspects outside his apartment building. He claimed a rope was tied around his head as a chemical suspected to be bleach was poured over him.
Smollett alleged that the attack was a hate crime telling officers that the suspects hurled racial and homophobic slurs at him. Smollett is black and openly gay.
On February 13, the two alleged suspects, Nigerian brothers Olabinjo and Abimbola Osundairo, were arrested after police identified them through surveillance footage that revealed they were in the area when the alleged crime took place.
During their interrogation, they disclosed that Smollett paid them $3,500 to assault him and even paid for the rope used in the attack. The brothers added that they rehearsed the crime days earlier.
They also revealed that Smollett planned the attack because a previous death threat sent to him a week earlier did not get much attention.
The letter addressed to him and sent to the "Empire" studio had "MAGA" written in one corner and had a drawing of a stick figure hanging from a tree with the caption,
"You will die black f-g."
There was also a white substance on the letter believed to be aspirin. An investigation is currently being done to determine the authenticity of the letter or if it was also orchestrated by Smollett.
According to sources, Smollett's motive for staging the attack was to drum up interest in him after learning that he was about to be written off from the show, "Empire." Producers of the series immediately denied this.
A "HAIL MARY" CALL POSTPONES HEARING
On Tuesday, just as the Osundairo brothers were about to take the stand in front of a grand jury at Chicago's Leighton Criminal Court Building, prosecutors received a call from Smollett's lawyers which resulted in the postponement of the brothers' appearance.
Reports suggest new evidence has emerged on the side of the defense.
That same day, Cook County State Attorney and top prosecutor Kim Foxx recused herself from the case. This was after surveillance footage revealed the Osundairo brothers purchasing key masks, hats and other items which were used in the attack.
SMOLLETT'S REACTION TO THE LATEST ACCUSATIONS
Smollett's lawyers have denied their client's involvement in a hoax and insists he was "victimized." They also gave the assurance that Smollett will continue to cooperate with the investigation.
WHAT SMOLLET COULD BE FACING IF ALLEGATIONS ARE PROVEN TRUE
If Smollett is proven guilty of fraud, he will be facing prison time and his career will, no doubt, take a nosedive. The punishment for a Class 4 felony in relation to a falsified report is one to three years in prison. He will also be asked to pay restitution.
It's not likely that Smollett will only be sentenced to probation as reports suggest he does not have a clean record with the law.
In 2007, he pled guilty in a DUI charge which also involved giving false information to the police. He reportedly gave a different name, his brother's.
Please fill in your e-mail so we can share with you our top stories!