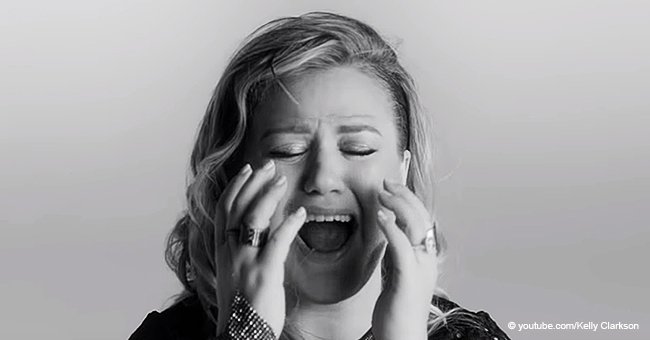 Kelly Clarkson Reveals Estranged Dad Who Left Her When She Was 6 Has Died
Country singer and television host Kelly Clarkson recently had an interview with "Forbes." There she opened up about her relationship with her estranged father.
During the interview, the singer revealed that her father had passed away.
Kelly Clarkson, 36, has a lot going on for her this year. In early September her own show, "The Kelly Clarkson Show" will be airing on NBC right before "The Ellen DeGeneres Show."
She's also on her "Meaning of Life" tour which will have its next stop at the Allstate Arena in Rosemont, Illinois on Friday. Plus next Monday she'll be back on "The Voice" for season 16.
Her plate seems quite full and her life is productive but not everything is perfect in her life. During an interview with "Forbes," Clarkson opened up revealing that her estranged father, Stephen Michael Clarkson, had passed away.
The singer was responding to a question about recently getting choked up during a performance of "Piece by Piece." She revealed that the song's lyrics were about her shaky relationship with her father.
The multi-talented musician explained:
"That song for me, personally, behind the scenes, it's evolved mostly for me. So like from the moment I wrote it, just being pregnant with my little girl and then you know all the moments that I really did try and make it work with my father and life and just get completely let down to where…"
She added, "You know he passed away months ago. So that's why." Clarkson further explained, "It's kind of that I think you know I don't tell everyone that but, that's why everybody thinks I'm just a nutcase, but it's just, it's evolved."
The song contrasts her relationship with her father and husband, Brandon Blackstock. She shares a daughter River Rose, a son Remy, and stepchildren Savannah and Seth with him.
The singer elaborated:
"It's just the sense of loss that I just don't know if I'll ever not feel just because I'm a mom, I'm a mom of two kids that aren't even from my womb that I still couldn't imagine treating the way that I was. I think that was just a really hard one for me still. But I have to sing it and I get it."
The song became harder to sing as she thought of how she wouldn't live her own children as her father did to her when she was 6.
Clarkson's other hit song "Because of You" was also inspired by the pain she felt due to her parents' divorce. It also talks about her father's choice to abandon her.
She also revealed that she didn't stay in touch with her father.
Please fill in your e-mail so we can share with you our top stories!