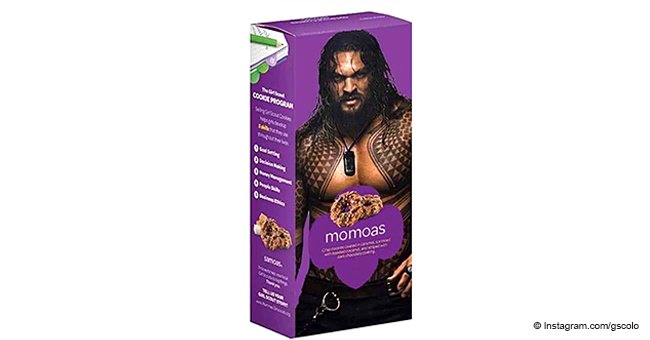 Girl Scout Put Shirtless Jason Momoa Pic on Boxes of Samoa Cookies & They Quickly Sold Out
An inventive Girl Scout and her mom came up with a brilliant marketing strategy to sell cookies: turning their Samoas into "Momoas" by using a shirtless picture of Jason Momoa on the boxes.
When it comes to selling their cookies, the Girl Scouts have proved they can be pretty creative. Just a few weeks ago, a girl went viral with her cookie-style version of Cardi B's "Money," and now a top seller based in Colorado has earned national attention with her "Momoas."
Charlotte Holmberg, a fifth-grader known in her troop as a "Cookie CEO" for selling more than 2,000 boxes last year, came up with a brilliant marketing strategy with the help of her mother, who is a professional in the field, to sell her cookies.
They printed a photo of Jason Momoa as "Aquaman" on the box, and even rebranded the Samoas, changing the name to "Momoas" but promising the same tasty flavor on the inside. Holmberg's mom was in charge of creating the design, printing the new boxes and helping her daughter re-pack the cookies.
The Girls Scout of Colorado praised the move by sharing pics of the boxes, stating that they "loved that creativity."
"The moms are getting really excited, and they're saying that they need them!" little Holmberg told Denver's 9News last week. And added:
"The girls will want to buy some because he's on the front. And the boys will also wanna buy some because he's like, he might be like their favorite character."
After going viral, more people have been asking to buy the cookies, but the Girls Scout of Colorado have taken to their Facebook page to clear the air about the boxes after many people have been calling out the move for violating Momoa's and Warner Bros.' copyrights.
They wrote:
"Thanks to everyone who reached out, asking to support this Colorado Girl Scout! This all started as an inside joke with her friends and family. She has sold her supply of 35 boxes or so and is no longer using the image to sell cookies – though her cookie season is ongoing. To find Girl Scouts selling cookies near you, visit www.girlscoutcookies.org."
Neither Momoa nor Warner Bros. have addressed the use of their image on the cookies, but Jason's supporters believe he would be more than happy to be part of such a good initiative.
Last year, another girl scout who went viral was Charity Joy Harrison, a 6-year-old from Atlanta who made her own version of "Red Bone" from Donald Glover's rapper persona, Childish Gambino, with the help of her father.
The duo created lyrics using Charity's favorite cookies. "Thin Mints, you wanna order some before it's too late," the 6-year-old starts to sing in the viral video. "We also got Trefoils, and they taste great. Tagalongs will make you feel fine."
The video earned over 5 million views and even gave Charity the opportunity to meet Glover on "The Late Show with Stephen Colbert." The adorable girl offered Glover a cookie order form, and after realizing she had only 113 boxes left, the "This Is America" star decided to buy them all.
Charity ended up selling over 5000 boxes.
Please fill in your e-mail so we can share with you our top stories!