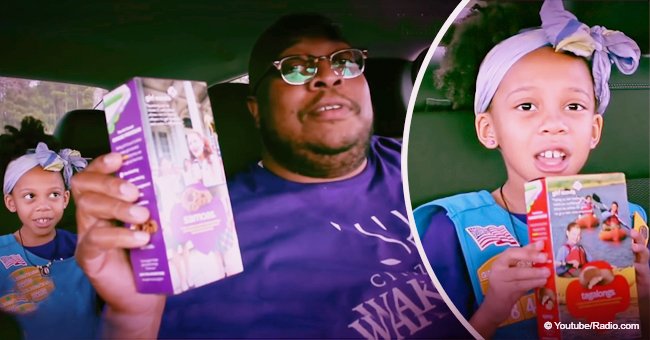 Dad & daughter's remix of Donald Glover's 'Redbone' to sell Girl Scout cookies is still pure gold
A creative father-daughter duo went viral in 2018 after they made their version of Donal Glover's song "Red Bone" to sell girl scout cookies. The girl not only surpassed her goal but got to meet the star in person.
Charity Joy Harrison and her father Seymore Harrison Jr. came together to brainstorm ideas for her cookie-selling strategy. It was Charity's first year selling cookies, and she had set her goal at 1300 boxes because it would get her a Disney trip.
So, the pair had to come up with something creative to persuade people to buy from her. The pair decided to do their own version of "Red Bone" from Donald Glover's rapper persona, Childish Gambino, and they created lyrics using Charity's favorite cookies.
"Thin Mints, you wanna order some before it's too late," the 6-year-old starts to sing in the viral video. "We also got Trefoils, and they taste great. Tagalongs will make you feel fine."
"Samoas are coconut cookies with caramel. You wanna get them now because they're gonna sell. I promise it is worth your time," Seymore joins in the fun. And then the musical duo continues:
"If you want them, you can have them. If you need them, you can buy them, oh! If you want them, you can buy them. Now stay woke, buy these cookies. Girl Scout selling delicious cookies. Now stay woke, buy these cookies. Don't you wait too late."
The video, shared to Facebook, has earned over 5 million views.
"People like the fact that a father is involved with the Girl Scouts and selling the cookies. Girl Scout moms have been reaching out about how much they like having 'cookie dads' around," Seymore told a local NBC affiliate.
In just a few weeks, Charity had reached her goal, and since she had more time before her deadline, the girl decided to increase her number, going from 1300 to 2500 boxes.
Impressively, she ended up selling over 5000 boxes after her video went viral. And the last 113 boxes were bought by Donald Glover in person.
DONALD GLOVER MEETS CHARITY
The actor, rapper, director and writer was visiting "The Late Show with Stephen Colbert" when he was asked if he had seen Charity's video. Glover affirmed that he saw it and loved it, mainly because Charity and Seymore are also from Atlanta.
"I would actually really like to buy some from her," Glover told Colbert before the host revealed Charity was actually in the building, surprising Glover and the audience. The adorable girl offered Glover a cookie order form, and after realizing she had only 113 boxes left, the "This Is America" star decided to buy them all.
Thin Mints, obviously.
For a first year selling cookie, is safe to say that Charity surpassed expectations and has set a new standard in the most ambitious fundraiser of the Girl Scouts.
Please fill in your e-mail so we can share with you our top stories!