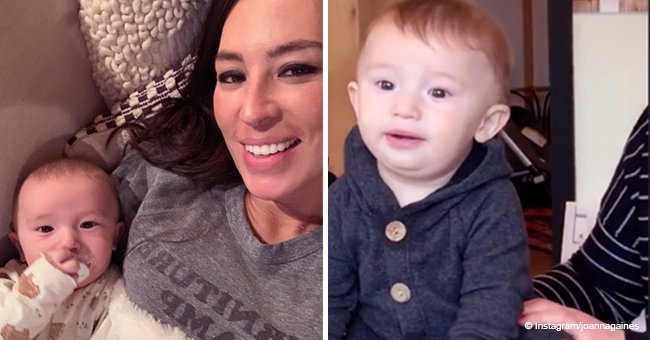 Joanna Gaines Reveals Her Little Son Crew's Thoughts in Rare Footage and It's Cuteness Overload

Joanna Gaines is preparing her son Crew to become the next CEO. The mother of five took her toddler to work and shared some of his cute thoughts about the workplace.
On Thursday, the littlest member of the Gaines family, Crew accompanied his mum, to work and the doting mother delightfully posted it on her Instagram story. The toddler had a first-row seat at the grown up's table.
In preparation for becoming the next big CEO, the eight-month-old looked charming in the dark grey hooded jumpsuit he was wearing.
In the first clip the mother uploaded on her story, the baby could be seen enjoying himself and clapping his hands at intervals as he sat between two adults.
It can be assumed that Crew is a fast learner who is catching up at the job because Joanna captioned the video;
"'Yes! I love that idea!' – Crew, CEO."
In the two videos left, Crew's demeanor towards the work environment was a bit different. The eight-month-old looked bored with whatever the adults were doing. Well, every CEO gets tired sometimes. Gaines caught her son's lack of interest and interpreted it beautifully in her caption for the second video.
"'Ok let's wrap this meeting up, I've got places to be.' – Crew," Gaines wrote.
Chip, like his wife, is also into taking his older kids to work with him. When training children, it is essential that the parents sometimes show them how things are done in the real world.
Baby Gaines was born on June 21 making him the seventh member of the Gaines' crew. Since his birth, the doting parents, Chip and Joanna have not been able to stop admiring and posting adorable pictures and clips of their baby boy. Truth is, Crew is one handsome young man. To inform the world of his arrival, the happy father tweeted:
"And then there were 5. The Gaines crew is now 1 stronger! 10 beautiful toes and 10 beautiful fingers all accounted for, and big momma is doing great! #blessedBeyondBelief."
Eight months with the bundle of joy, and the parents are now tutoring him in the CEO path.
Please fill in your e-mail so we can share with you our top stories!