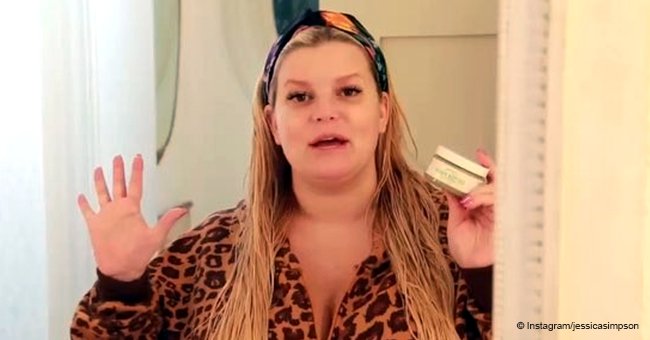 Jessica Simpson Slammed by Vicious Trolls after Sharing a New Video of Herself Online
The "Dukes of Hazards" star is currently in the late stages of pregnancy with her third child and got slammed for looking bloated on social media.
Jessica Simpson posted a video on social media where she spoke of using the TeamiBlends green tea detox mask to reduce swelling during pregnancy.
A very swollen looking Jessica explained how her face felt "bloated and sluggish" wanting "to tighten things up." Wearing an animal print jacket and a matching hairband to keep her long blond hair out of her face, she was visibly swollen and had trouble catching her breath at times.
Currently, in a paid partnership with the popular brand of detox teas and products, the actress further mused about how the product felt on her skin as she applied the mask on her face.
The post on Instagram immediately drew criticism, with many people commenting on Simpson's labored breathing and visible discomfort as one user said:
"Gheez she can't talk and breathe at the same time. Tighten that roll around the neck too."
Another Instagram user chimed in with a negative comment:
"Jeez, she probably ate a bunch of food and did stuff to her face to make it extra bloated so she could see instant results and help her sell this creme she's being paid to sell and just got paid cause you watched the video."
Jessica posted the same video to Facebook where fan empathized with the highly pregnant singer as one woman gave some encouraging words:
"Pregnancy is so hard on you momma. I get it. Felt the same way. It's almost over."
Some expressed their concern regarding her swollen neck and face as another fan advised:
"I love you Jessica....after this baby is born check your TSH...your thyroid looks very large. Same happened to me, and I had Hashimoto's. had to have the thyroid removed."
The actress had not held back on sharing her experience throughout her pregnancy. On January 18 Jessica shared an image of her very swollen leg to which many fans found relatable as one follower said:
"I'm not the only one who looks like this in pregnancy!"
On February 8 other pictures of Jessica got captured while out and about, and one can clearly see the toll this pregnancy has on her body.
On January 20 the actress had her baby shower and looked beautiful for the special occasion. But that also turned out to be the day Jessica revealed their soon to be born baby girl's name.
Please fill in your e-mail so we can share with you our top stories!