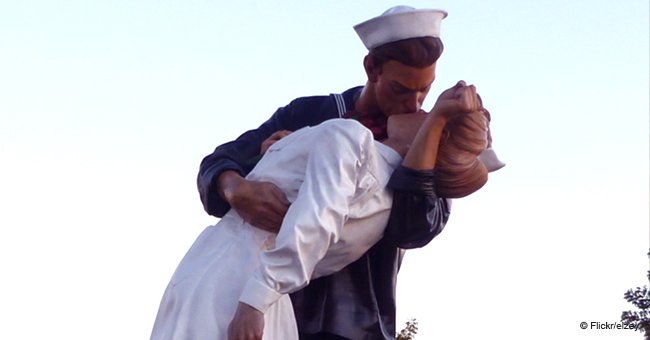 Statue of famous 'Kissing Sailor' who died a few days ago was vandalized with 'Me Too' graffiti

The "Unconditional Surrender" statue is an oversized recreation of a photograph that was taken in 1945, the day the Japanese surrendered to the United States.
For years, the photo depicting "two perfect strangers" George Mendonsa and Greta Zimmer Friedman, was seen as a romantic symbolism.
The lifesize sculpture was built in 2005 and installed in San Diego two years later. However, the statue and photo are being seen in a less than positive light these days.
As reported by ABC News, authorities were dispatched to the statue earlier this week when a case of vandalism was reported.
They found the hashtag #MeToo spraypainted along the nurse's leg. Officers searched the area but found no clues to suggest who the culprit may be.
Commentary online is currently in two camps – those who believe there is nothing wrong with the statue and photograph, and those who feel the statue should never have been erected in the first place.
Critics of the photograph and statue point out that the kiss was nonconsensual and is reminiscent of an era when men owned woman and sexual assault was normalized.
One Twitter user, Adriana Weronika, said it was wrong for the statue to even exist, while another summed it up succinctly:
"I get that it sucks to find out that your heroes/icons aren't perfect, but no one is. He sexually assaulted a stranger. He shouldn't have. Accept that the action was wrong, learn from it, and do better moving forward."
In 2005, the nurse in the picture opened up about how the incident made her feel. She also didn't feel comfortable re-enacting the kiss in the eighties:
"Well, it wasn't – it wasn't my choice to be kissed. The guy just came over and kissed me. [...] I told [the photographer Alfred Eisenstaedt] that I didn't want to redo that pose."
Then seven years later, Mendonsa told CBS that he was drunk when he kissed Friedman:
"The excitement of the war being over, plus I had a few drinks. So when I saw the nurse, I grabbed her, and I kissed her."
And therein lies the problem, critics of the statue and photograph maintain. Forcing oneself on another person without their consent cannot be justified by "excitement over a war ending."
Friedman passed away in 2016 at the age of 92, and Mendonsa passed away earlier this month at the age of 95.
Please fill in your e-mail so we can share with you our top stories!