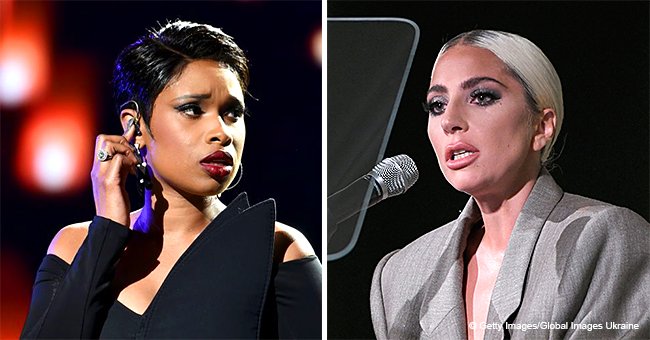 Jennifer Hudson's Reaction to Lady Gaga's Acceptance Speech at the Oscars Goes Viral
Jennifer Hudson becomes the subject of memes following her priceless reaction to Lady Gaga's Oscar's speech.
Jennifer Hudson knows how glorious it feels to be the center of attention on stage receiving an Oscar award. She's been there, done that.
But what she recently proved was that she can also draw attention just by being in the audience, supporting a fellow singer's moment to shine.
Hudson was among the stars who witnessed Lady Gaga's first Oscar win for her song, "Shallow," a duet she performed powerfully with her "A Star Is Born" co-star Bradley Cooper that night.
And while the rest of the world zoomed in on Gaga during her acceptance speech, Hudson caught the attention of cameras as she reacted to her friend's emotional speech.
In the clip, the 2006 Best Supporting Actress winner for the film "Dreamgirls" was evidently feeling what Gaga was saying.
"If you are at home and sitting on your couch watching this right now, all I have to say is this is hard work," the 32-year-old singer said.
"I have worked hard for a long time, and it is not about winning but it's about not giving up. If you have a dream, fight for it. There's a discipline for passion, and it's not about how many times you get rejected or you fall down or beaten up, it's about how many times you stand up and are brave."
While Gaga delivered her speech, Hudson stared at her and appeared to be ingesting everything the "Born This Way" singer was saying until she mouthed the words, "yes, yes, yes."
Her reaction was pure gold. Fans on Twitter couldn't help but spread the clip around. "Jennifer Hudson is all of us watching Gaga's speech," Page Six reporter Lindsey Kupfer wrote.
"Get you someone who looks at you the way Jennifer Hudson looks at Lady Gaga," another tweeted.
"Hudson is stage mom-ing Lady Gaga through this speech," a third commenter wrote.
And there's more from where that came from. Just scroll down to see the memes that evolved.
Hudson herself acknowledged her "yes" to Gaga's speech when she shared a clip of the brand new Oscar winner addressing the audience after her name was called for Best Song.
"Yessss......to everything @ladygagasaid!!!," she wrote to accompany the clip and added,
"Every word and every note she sang and every tear ! Congrats on your win, so well deserved ! @theacademy if it's not worth working hard for it's not worth it at all! It may get a million no's but all it takes is one yes to change your life !"
Hudson's reaction to Gaga's speech wasn't the only thing that caught fans' attention about her that night. In contrast to their amusement over her encouraging reaction, many were disappointed with her performance of the song "I'll Fight," from the documentary "RGB."
Tweets alluded to her "awful" rendition and even described it as "pitchy" and "flat." Some suspected it was a technical problem that caused the "American Idol" winner to deliver a poor performance.
Nevertheless, there were those who found her performance stunning, including the song's writer, Diane Warren. Here's a clip from that controversial performance.
Please fill in your e-mail so we can share with you our top stories!