Jennifer Hudson's Tuxedo Coat with 15-Foot Train Grabs Attention Amid 'Awful' Oscars Performance
The post-Oscars talk about Jennifer Hudson's "awful" performance has led to people noticing her stunning tuxedo pantsuit, which featured a 15-foot train. 
During this year's Academy Awards night, Jennifer Hudson took the stage to sing her song "I'll Fight" which was featured on the film "RBG" that aimed to honor former Supreme Court justice, Ruth Bader Ginsburg. While it was meant to honor a phenomenal woman, her performance faced heavy criticism after the singer couldn't seem to hit the right notes. 
Jennifer's difficulty in reaching the notes to the song was quite peculiar to many, especially since "I'll Fight" is her own original song. This resulted in people voicing out their opinions about what they thought was an "awful" Oscars performance, especially coming from such a renowned artist and one that judges other singer aspirants on a game show.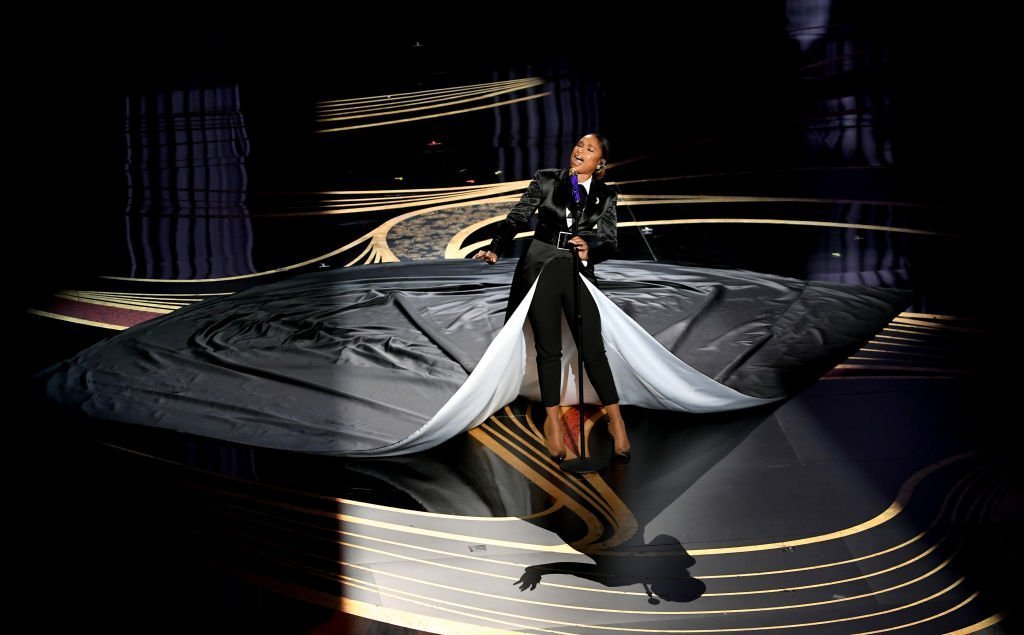 On Twitter, Oscar viewers did not hold back on their harsh comments, saying that it was odd listening to her sing flat note after flat note. 
What is going on with this Jennifer Hudson performance?! I can't work it out, but something is wrong. Was she really flat, or was the orchestra out of time with the vocals? 🤔 #Oscars

— Ally Pally (@AlRichPhillips) February 25, 2019
Jennifer Hudson just held a flat note for what has to be a record #commitment #Oscars

— Phayq naim (@PhayqNaim) February 25, 2019
It was embarrassing.

— Mildred Garner (@cmgarner_garner) February 25, 2019
WHEN JENNIFER HUDSON WENT FOR THAT HIGH NOTE 💀💀 pic.twitter.com/VwPnnZLadQ

— chestnut's opinions (@chestnutdrag) February 25, 2019
did Jennifer Hudson miss that note?

— John Harwood (@JohnJHarwood) February 25, 2019
Despite her heavily criticized performance, people also made sure to notice the good things that Hudson did that night, such as wearing such stunning outfits for both the red carpet appearance and her onstage performance to make way for the awarding of "Best Original Song." 
For her performance, she broke stereotypes by wearing a pantsuit instead of a gown, making it clear that she is one of the many women in Hollywood who want to make a statement that they are more than the clothes they wear to awards shows. 
During the red carpet appearance prior to the start of the show, Jennifer sported a red ruffled gown which she matched with silver heels. Wearing the same fiery red outfit, she was caught looking on lovingly to Lady Gaga, who delivered a stunning speech for her "Best Original Song" award. 
JENNIFER'S SHOE-THROWING IDEA
Jennifer's been in the industry for many years, and aside from her talent, she's shared one more thing: the information that when you encounter such a good performance, you throw a shoe at the performer.
That's exactly what she did when she threw a shoe at a contestant named Chris Weaver after she was so moved by his performance.
Later on, Jennifer started receiving shoes at her own concerts, touched at the kind gesture of her fans who not only remember what she once said on an episode of "The Voice," but also believe she's worthy of being thrown a shoe at. 
Amazing performance by @IAMJHUD! #Oscars pic.twitter.com/KuQrlhseH6

— Channel9 (@Channel9) February 25, 2019
While she's already experienced having shoes thrown at her, she didn't get any shoes at the Oscars following her less-than-stellar performance.