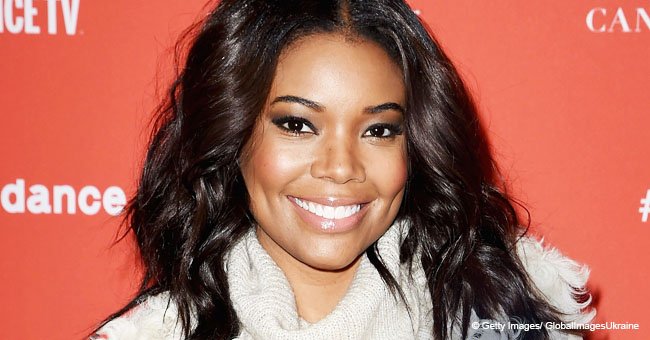 Gabrielle Union's 3-Month-Old 'Shady Baby' Steals Hearts, Frowning & Looking Serious in New Photo

Gabrielle Union and Dwyane Wade's 3-month-old daughter Kaavia James is becoming quite a diva, and an Instagram post proves it.
Baby Kaavia James may soon rival her famous mom and dad. The tiny mite already has close to half a million followers on Instagram.
Kaavia's parents - Gabrielle Union, and Dwyane Wade - created the account "#ShadyBaby" to share photos of their adorable daughter, and she has become quite a star.
"She looks just like Dad, but I'd like to think the attitude is from me. She will stare into your soul and tell you about yourself through her eyes."
THE CUTEST SCOWL EVER
Kaavia has conquered her followers not just with her sweet smile, but also with her hilarious thunderous scowl.
The little girl seems to show her every thought with her intense expressions. She can't talk yet, but she makes her presence known.
Wade recently shared a cute photo of himself and Union inside an airplane, with Kaavia along for the ride.
KAAVIA TAKES AFTER HER MOM
Union revealed that although Kaavia looks like her dad, her assertive personality she inherited from her sassy mom. It looks like Union and Wade may be facing quite a challenge when their baby girl hits the terrible twos.
FLYING SAFE WITH HER DOTING DAD
Wade recently shared a cute photo of himself and Union inside an airplane, with Kaavia along for the ride in a BABYBJORN carrier, and captioned it:
"Wherever we're going. Just know I got you!!! @kaaviajames @bravoandyswag."
TAKING A PAGE OUT OF ANDY COHEN'S BOOK
The photo is eerily similar to one TV host Andy Cohen shared on February 8, 2019. of himself on a plane with his own bundle of joy, Benjamin Allen.
Wade had tagged Cohen, and he responded:
"You and I are basically the same person!!!! All the best to your family! Can yours teach mine (basketball)?"
The two families are friends, so we can expect quite a few photos of Kaavia and Benny's playdates once they are a little older.
ANDY COHEN BECAME A DAD BY SURROGACY
Andy Cohen, 50, revealed that his only regret had been not having children. The openly gay "Bravo" confessed that back in the 80s things had been very different for gay men, and being gay meant giving up the dream of having a family.
"When I came out to my parents in 1988, my mom said she had to mourn the life that I wasn't going to be able to have. And that life meant getting married and having kids."
But Cohen did not give up on his dream and chose surrogacy as the road to fatherhood.
On February 4, Cohen welcomed his first child, a bouncing baby boy he named Benjamin Allen Cohen, after his grandfather. Congratulations, Andy Cohen.
In a related story, Andy Cohen shared a recent photo of his newborn son, Benjamin Allen, on Valentine's day with the sweetest sign.
Please fill in your e-mail so we can share with you our top stories!