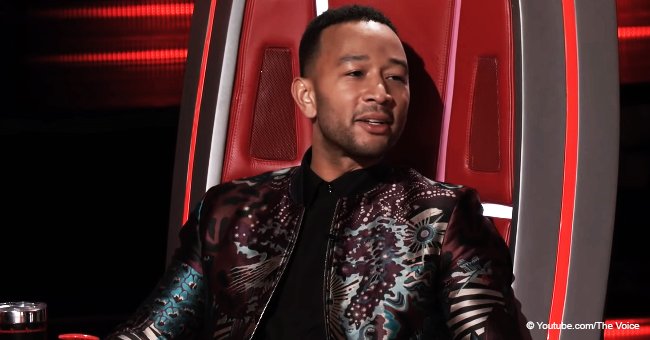 John Legend Makes Debut on 'The Voice' But Fellow Coaches Don't Go Easy on Him

John Legend gets pranked on his debut as a coach on "The Voice" by his fellow coaches Blake Shelton, Adam Levine, and Kelly Clarkson.
John Legend has joined the panel of the popular talent contest, "The Voice," and he seems set to give the show's veteran coaches a run for their money.
If the first episode of season 16 is anything to go by, viewers are in for an exciting ride.
"They don't want us to be together! How am I the first person blocked?"
PRANKED BY "THE VOICE" VETERAN COACHES
But it seems as if his new colleagues are not going to take it easy on him just because he is a rookie.
In the season's first audition, Legend turned his chair for country singer Gyth Rigdon but found himself blocked. The culprit was Blake Shelton, who stopped Legend from coaching the young singer.
Kelly Clarkson joined the fun and blocked Legend too.
BLOCKED ON THE FIRST AUDITION
In Season 14 the producers of "The Voice" threw the coaches a curveball: each of them now had one opportunity to block another from getting an artist to join their team.
The privilege can only be exercised once during the entire first round of the competition, and Blake Shelton used up his to prank newbie Legend.
FRIENDLY RIVALRY HAS THE AUDIENCE IN STITCHES
But Legend's trial was far from over. Kelly Clarkson joined the fun and blocked Legend too, so she could have singer Rizzi Myers on her team. The "All Of Me" singer quipped:
"John is a threat. He's only been here for an hour-- And I've already been blocked twice!"
LEGEND GIVES HIS FELLOW COACHES A WARNING
Legend faced the blocking with his wry humor, but he left his fellow coaches a warning:
"They're all gonna run out of blocks and I'm gonna clean up. It's all good. I have a block button too."
Legend recruited singer Maelyn Jarmon for his team, and proved that he is going to be a force to be reckoned with on "The Voice.".
JOHN LEGEND ON "SURVIVING R KELLY"
While most entertainment industry figures have chosen to stay away from the R Kelly sexual abuse controversy, John Legend jumped right in.
Legend was the only star who was willing to participate in the documentary which exposed R Kelly's proclivities: "Surviving R Kelly."
"To everyone telling me how courageous I am for appearing in the doc, it didn't feel risky at all. I believe these women and don't give a f— about protecting a serial child rapist. Easy decision."
Legend expressed his repulsion for the singer's actions in using his power in influence to abuse young girls for over 20 years, and offered the victims his whole-hearted support.
In a related story, a homeless man went viral with over 20 million views for his emotional & breathtaking rendition of John Legend's 'All Of Me.'
Please fill in your e-mail so we can share with you our top stories!