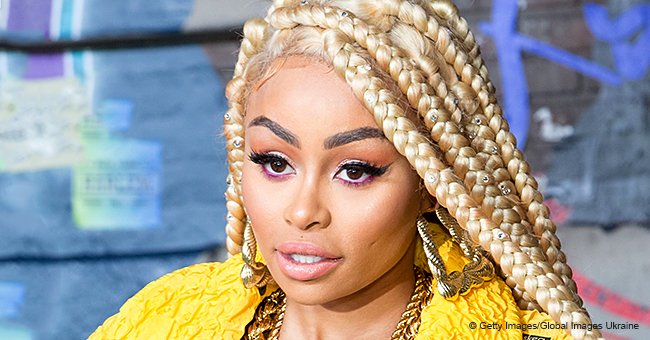 Blac Chyna Gets Slammed after Kissing Daughter Dream and Son Cairo in New Video
Blac Chyna is a happy mom in her latest video with her two children. But she gets slammed by fans who think what she did on the clip was inappropriate.
Blac Chyna delighted in her children in a recent clip but appeared to have earned the disapproval of some fans.
In the clip posted on her Instagram stories and featured by The Shade Room, the singer engages in a sweet moment with her daughter Dream where they're hugging and kissing each other. At one point, her older son Cairo enters the frame and gets a peck from his mom.
While it would seem the video captured an adorable connection between Chyna and her children, fans saw the rapper's form of affection a little too much for their taste.
In one portion of the clip, Chyna attempted to kiss her three-year-old daughter on the lips but Dream avoided the lip smack by directing her head up. This moment triggered a series of comments slamming the star and telling her it isn't right to be kissing your children on the mouth. They even pointed out the fact that Dream herself didn't appreciate the move.
"You see how fast la baby dodged that kiss," one commenter wrote.
"Dream said "No to her lips," another echoed.
"Rob probably said " When your mother try to kiss you move away or your beautiful face going turn into a monster", another joked.
The man the commenter is referring to is Rob Kardashian, Dream's father and Chyna's ex-fiance. The pair haven't been seeing eye to eye since they parted ways bitterly back in early 2017. They share joint custody of their daughter and have been battling it out in court over their custody issues.
More recently, Rob was rumored to be unhappy with Chyna's parenting and was reportedly pushing for more custody. However, the pair appeared to debunk these rumors when they both released tweets on February 26. Rob denied that there were pending custody cases between them while Chyna praised Rob for being "a wonderful father to our Dreamy" and added that they both only want what's best for her.
This latest development is a surprising twist in the couple's turbulent saga. The two must have recently buried the hatchet, a mature move for the sake of their daughter. Besides, Chyna's ire has been redirected to Soulja Boy.
It was only a while back when the two were said to be dating. Shortly after, things fizzled out. Now there's a word war happening where Soulja revealed in a now-deleted tweet that the only reason he hooked up with Chyna was to "to see what the [expletive] felt like." Chyna responded by saying she's "glad" that relationship is over.
Please fill in your e-mail so we can share with you our top stories!