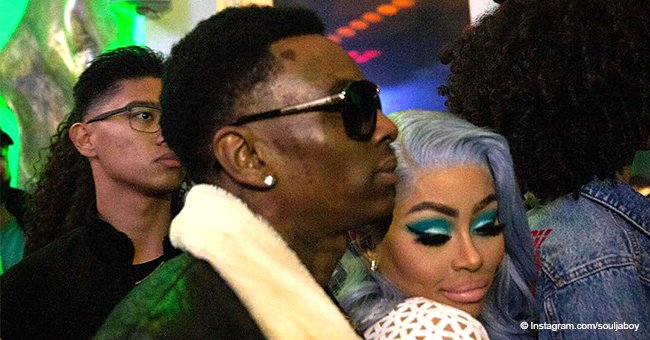 'TMZ': Soulja Boy and Blac Chyna are reportedly dating after sliding into each other's DMs

Soulja Boy and Blac Chyna fan dating rumors after a series of social media posts alluding to it. It was reportedly a whirlwind romance.
If you've been keeping up with Soulja Boy's relationship status lately, then you may be getting confused with all the women he's been linked with lately. The most recent, according to the grapevine is Blac Chyna.
TMZ reports Soulja and Chyna have been secretly dating for more than a week. Their relationship reportedly stemmed from direct messages on Instagram. It culminated when they finally met at the LA penthouse of Sean Kingston and things just progressed from there.
Days later, they were spotted getting cozy during the after parties of the Grammys. Soulja even shared a photo from their time together and labeled it "DrakoChyna."
In another photo he shared where he appeared to be dancing with his rumored girlfriend, he wrote,
"DrakoChyna Grammy Party Celebration"
A couple of days after, the pair was spotted on a salon date having manicures and pedicures. The proof was on Soulja's Instagram story.
It was just a split second ago when Chyna broke up with Kid Buu after things got violent between them. Last month, police responded to a call in a Hawaii hotel room where Chyna and Buu got into a physical fight over the latter's alleged cheating.
Meanwhile, Soulja had some issues of his own to deal with recently. He was accused by an ex-girlfriend of kidnapping and assault after he reportedly tied her to a chair for hours in his home's garage. The incident reportedly stemmed from an altercation about another woman Soulja had been seeing. He had just professed love to Instagram model Tiona at the time.
Not long before, Soulja's other ex-girlfriend for ten years, Nia Riley also hinted at being abused by the rapper during their relationship. Her cryptic messages on Instagram came in the heels of rumors of him dating Tiona.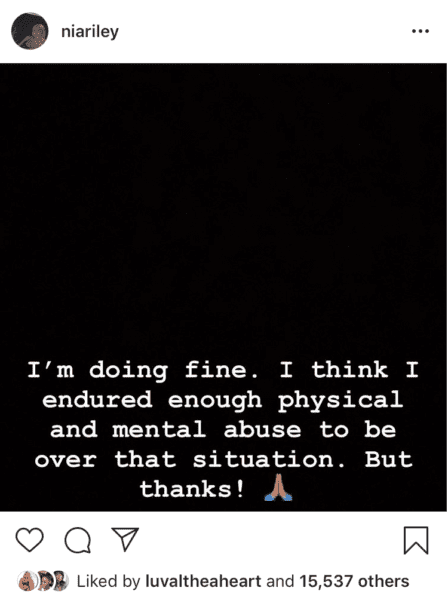 Source: Instagram / Nia Riley
Chyna isn't new to abuse herself. She and her ex-fiance Rob Kardashian have accused each other of physical assault stemming from their December 2016 fight in Kylie Jenner's home. They haven't been friendly to each other since then but continue to be parents to their 3-year-old daughter Dream.
Please fill in your e-mail so we can share with you our top stories!