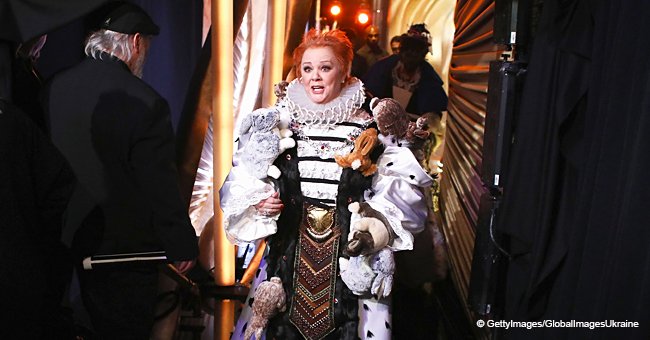 Melissa McCarthy Changes from Bizarre Rabbit Dress at Oscars to a Cozy Tracksuit with Her Husband
The actress made a wink towards both the film "The Favourite" and the work of costume designers as she took the stage to present an award by wearing a very extravagant period dress.
48-year-old Melissa McCarthy took things to the next level in a ceremony on which everybody tried their hardest to attract attention towards themselves and their designer outfits by wearing a "Queen Anne" dress with many rabbits on it.
In doing this, McCarthy parodied one of the night's best picture nominees "The Favourite" that features Olivia Colman as British Queen Anne, who says she owns 17 rabbits in the film, while acknowledging the work of costume designers.
"These artists create a pastiche of textiles with authenticity yet never distract from the story," the "Mike & Molly" star said as she presented the award for Best Costume Design alongside actor Brian Tyree Henry.
The 36-year-old "Atlanta" actor also wore a flamboyant period costume, and Ruth Carter won the category for her work on "Black Panther," making her the first African-American to receive the accolade.
McCarthy, who was nominated for best actress for her role in "Can You Ever Forgive Me?" –an award that Colman took home in the end- also stood out for her choice of an outfit in the Vanity Fair Oscar's afterparty.
Both she and her husband Ben Falcone arrived at the star-filled event wearing matching Adidas tracksuits and sports shoes, in a move that defies Hollywood's glamour.
And her eccentricities don't end up here. It was also reported that she wore CBD oil, an active ingredient found in cannabis, on her feet to help her relieve the swelling and pain that comes with wearing heels for hours.
Prior to the Oscar's at the SAG Awards ceremony on January 27, McCarthy revealed an incredible weight loss, attracting the attention of everybody with her transformation.
But her iconoclastic attitude just proves that she underwent this change for herself, and not to fit in any existing molds. "It may be the best thing I've ever done. I feel amazing," the actress said about having lost over 75 pounds.
Please fill in your e-mail so we can share with you our top stories!