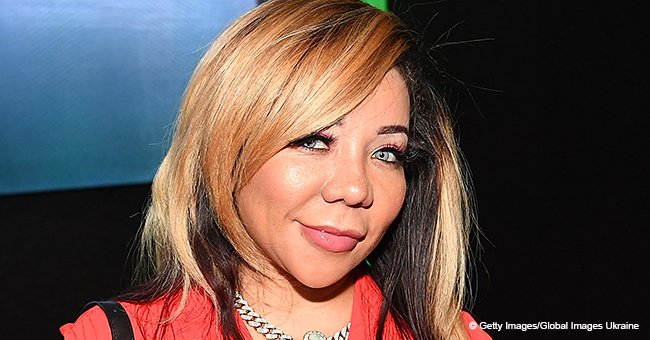 Tiny Harris & Daughter Heiress Rock Matching Outfits and Sunglasses While Posing on Expensive Cars
Tameka 'Tiny' Harris, the wife of T.I. Harris, took to Instagram to share several photos posing next to her daughter, Heiress, in matching Adidas outfits.
In the first image, the two-year-old girl appeared wearing black Adidas shoes, matching jogging pants, and a black and white Adidas sweater. Heiress also put on black sunglasses and was holding them with one hand.
Tiny was crouched next to her wearing black Adidas shoes, black and white pants, and a jacket with the same design as her daughter's sweater. The proud mother also chose dark sunglasses.
For the second image, both ladies posed in front of two expensive yellow vehicles parked a few meters away from their home's entrance. The rest of the shots portrayed Heiress and Tiny in different poses and sitting on the cars.
In the caption, Tiny wrote, "At the crib flexin for the gram with my #Lucky7 [Heiress Harris]. [Shootout] to [CaliGirl Eyewear]" [sic]. As soon as she shared that slideshow, her followers took to the comment section to share their thoughts.
"Y'all are twins! She is so cute! Love your Adidas fits!" one user commented.
"Love this i am an addidas girl too! Yessssss," [sic] admitted a second follower.
"Stunnin and looking just like her daddy [T.I] especially in the first picture," [sic] pointed out another person.
It is not the first time that Heiress melted the hearts of her mother's followers, though. In December last year, Tiny uploaded a clip showing the girl responding to her mother's questions.
MELTING MORE HEARTS
First, the proud mother asked for her favorite color, and Heiress energetically replied, "black!" Then, she questioned what her name was, to what the girl said, "Heiress." After that, the lady asked for her parents' names, and the girl said "Tameka" and "Tip."
Later, Heiress said that she was two years old and that her favorite book was "the baby one." Finally, the young girl said that her favorite holiday was Christmas.
Even though answering correctly to all questions was impressive, the highlight of the post was that the two-year-old girl didn't rush into her replies as she listened to it, gave herself time to think about it, and respond in the cutest way.
Unfortunately, the Harris family is going through a difficult moment as Precious Harris, T.I.'s sister, passed away on February 22. The woman had been in a coma for a week after being involved in a serious car crash.
DIGGING INTO PRECIOUS HARRIS' DEATH
Reportedly, her vehicle struck a pole, which triggered an asthma attack. Tiny uploaded a tribute to her Instagram account saying that they had an extraordinary relationship as Precious was who Tiny called when she wanted to get things off her chest.
Apart from being T.I.'s older sister, Precious was a regular guest on the family's latest reality show "T.I. & Tiny: Friends and Family Hustle," which is why she was so popular. She is survived by her three children – Kamaya, Avis Chapman-Reese, and Kareem "Plug" Chapman.
Please fill in your e-mail so we can share with you our top stories!