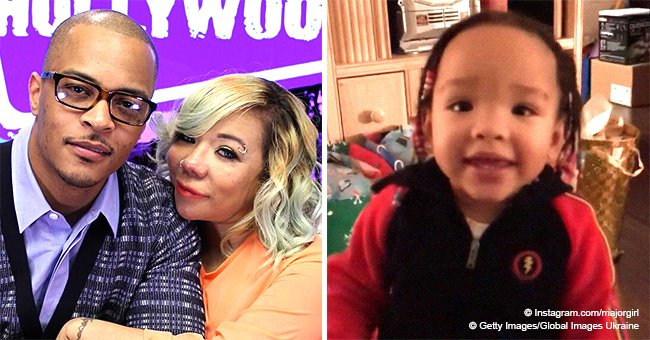 T.I. & Tiny Harris' daughter Heiress, 2, proves she's smart, correctly answers questions in video
Heiress, the youngest daughter of T.I. and Tiny Harris, melted the hearts of her mother's followers correctly answering a handful of questions.
In the clip that Tiny uploaded to Instagram, the two-year-old girl appeared wearing a black and red sweater with her beautiful hair braided. As soon as the video started, the "quiz" began.
Someone off camera, who was probably Tiny, asked for her favorite color, and Heiress energetically replied, "black!" Then, they questioned what her name was, to what the girl said, "Heiress."
After that, the lady asked for her parents' names, and the girl said "Tameka" and "Tip." Later, Heiress said that she was two years old and that her favorite book was "the baby one." Finally, the young girl said that her favorite holiday was Christmas.
While answering correctly to all questions was impressive, the highlight of the post was that Heiress didn't rush into her replies as she would listen to the inquiry, stop for a while to think about it, and respond in the cutest way.
For the caption, Tiny wrote, "One of my many Blessings.. [Heiress] My Sunshine." Her followers took to the comment section to share their thoughts, saying that the couple knew how to make smart children.
"That is so precious beautiful just so beautiful blesses bless the little baby so hard," wrote one of them.
"She's so darn cute & more articulate than most adults," admitted a second one.
"My how time flies! Seems that she was just born. She's gonna love Christmas this year!!" pointed out a third one.
It is not the first time that Heiress appeared in Tiny's social media melting people's hearts. In another video, the onesie-clad Heiress appeared on the couch instructing her mom to "do this!" while wiggling her arms to show her the move.
She turned to the mirror and watched herself before jumping off the couch and trying out a more complicated dance known as the Shoot. "I can't do it!" the little girl initially said while trying to kick her leg behind her with her head bent down.
Then she seemed to finally nail the move and exclaimed, "See? I doing it!" to the delight of her mother and other people around her who laughed and cheered for her. Tiny was especially amused with her baby and expressed her pride and joy in her caption, "How can I help but be obsessed. My Sunshine, My Tootie, our Lucky7."
Please fill in your e-mail so we can share with you our top stories!