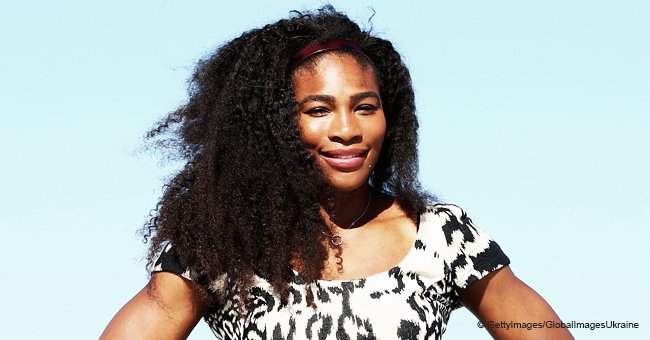 Serena Williams' Husband Shares Photo of Daughter in Cute Hairdo & Wearing Yellow Swimsuit in Pool

Alexis Ohanian, the husband of tennis legend Serena Williams, took to Instagram to share a photo with his daughter, Olympia Ohanian, enjoying a pool day.
In the image, Alexis Ohanian was in the pool wearing no shirt and looking at the camera while holding Olympia in his arms.
The girl, who had only her legs in the water, was slightly smiling and wearing a yellow swimsuit with a pineapple print on it.
Alexis's post was part of his joint efforts with Dove Men for fathers to get benefits when their children are born. In the caption, the man wrote that only 15% of men in the US get paid leave to bond with their newborn.
REACTING TO THE POST
"Let's change that. Join me and @dovemencare in pledging for change. #DoveMenPartner #PaternityLeavePledge," shared the proud father. As soon as he uploaded that photo, his followers took to the comment section to share their thoughts.
"Cute, cute! She is literally your mini me with a little fro!" [sic] admitted one user.
"Always fighting the good fight sir. THANK YOU and look at Mini Goddess," added a second follower.
"Daddy and baby embracing the moment soaking like a sponge!!! Cool!!" pointed out another person.
BEING A PROUD FATHER
Alexis has been a doting father ever since Olympia was born on September 1, 2017. During an interview the man had with the "Third Hour of Today," he pointed out that "it's easy to be a proud father" of the girl.
"It's been life-changing, and it's something that I never knew I wanted it badly until I had it, and then it just changed everything," confessed the 35-year-old man.
Alexis has proved that he is not shy about sharing details of his family life. In a recent letter the man penned to Glamour, he disclosed a "simple Sunday tradition" that has kept their marriage alive.
The Reddit co-founder made it clear that the simpler things like showing up and being supportive were the ones that mattered the most in a relationship and even thanked his parents for all he knows about how to be a good husband and father.
REVEALING THEIR SUNDAY TRADITION
After telling how his parents met and what they went through, he said that they taught him how "to be supportive, to make compromises without sacrificing yourself, and how to show up in the ways that matter."
Alexis even joked saying that he got the "cheat code" for having good relationships when he was very young. Later, he admitted that the couple couldn't be together all the time due to their schedules.
However, they have a "Sunday tradition" that consists of making pancakes.
"When I was growing up, my dad would make pancakes every Sunday. They were delicious, but it wasn't just about the food. It was about being together. So, on Sunday mornings I make breakfast for the family and it doesn't cost me a thing, except for gluten-free flour (I had to modify Dad's recipe a bit), some eggs, almond milk, a secret ingredient, and berries (Olympia loves raspberries)," he wrote.
Please fill in your e-mail so we can share with you our top stories!