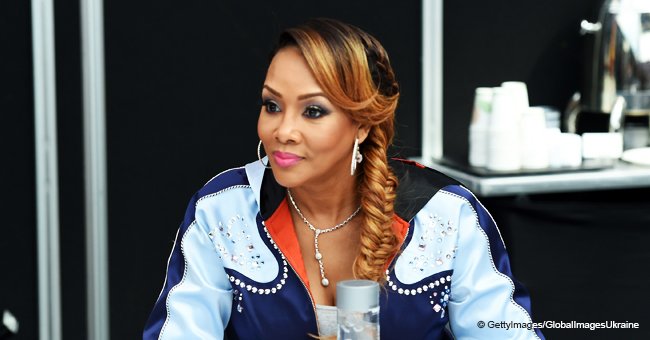 Vivica A. Fox, 54, Admits Her Focus Was on Sex While Dating, Now She's Ready for a 'Good Partner'

Actress Vivica A. Fox opened up on "Face The Truth" and spoke about how her choices of men in her past have left her still single at 54.
The "Independence Day" actress, Vivica A. Fox spoke about her love life and her choices to Areva Martin, Dr. Judy Ho, Judge Mary Chrzanowski, and Rosie Mercado on her talk show, "Face The Truth."
Fox admitted that she had always placed sexual attraction as the most important attribute in a partner and that it had led to bad relationships.
"I need someone that's going to make me laugh ... I need someone that's going to make me smile."
LOOKING FOR LOVE IN ALL THE WRONG PLACES
Fox, 54, confessed that she would often embark on a sexual relationship before knowing the man she was involved with well, and the results had been disastrous.
"A six pack and a smile used to get me every time, you know. But now I've grown up and honestly I am looking for a good partner"
Fox admitted that she deeply regrets not having had children and that she is now looking for a life partner.
A FAILED MARRIAGE AND A TUMULTUOUS RELATIONSHIP
Fox married singer Christopher "Sixx-Nine" Harvest in 1998, and the couple divorced in 2002.
In 2003, the "Kill Bill" actress started dating rapper 50 Cent, and although the relationship was short, the two engaged in a decade-long war of words.
AN ENGAGEMENT THAT ENDED IN HEARTBREAK
In 2011, Fox announced her engagement to Omar 'Slim' White, a club promoter. White was 28, to Fox's then 47, and after 10 months he ended the engagement saying:
"One thing I hate is negativity and drama. I hate arguing, and I value communication no matter what the problem may be. So as in any relationship, tension can build up and I finally had to walk away."
VIVICA A. FOX'S IDEAL MAN
Fox admitted that she deeply regrets not having had children and that she is now looking for a life partner.
"I want a man that when I see him he gives me butterflies, that every time his number pops up on my phone that I get excited to see him. Before I used to put sex before getting to know a person and trust me, I'm single."
The actress will now be looking for a man who loves to travel, enjoys sports, and has a good sense of humor.
Fox, who holds an associate's degree in social sciences, will be looking for brains over brawn this time around, and a man who is committed to enjoying life.
Good luck to Vivica A. Fox and we hope she finds the amazing man she deserves.
VIVICA FOX REMEMBERS HER LATE FATHER IN A TOUCHING TRIBUTE
Vivica Fox is still mourning the passing of the most important man in her life: her late father William on Father's Day, sharing throwback photos on social media.
Fox revealed that she was a "daddy's girl" and that her father had been her tower of strength. William had been a private school administrator and devoted to his daughter.
Fox explained that It was William who had helped her through her devastating relationship with the rapper 50 Cent, and motivated her to move on with her life.
In a related story, Vivica A. Fox flaunted her curvaceous figure on her new talk show, and spoke about her return to 'Empire.'
Please fill in your e-mail so we can share with you our top stories!