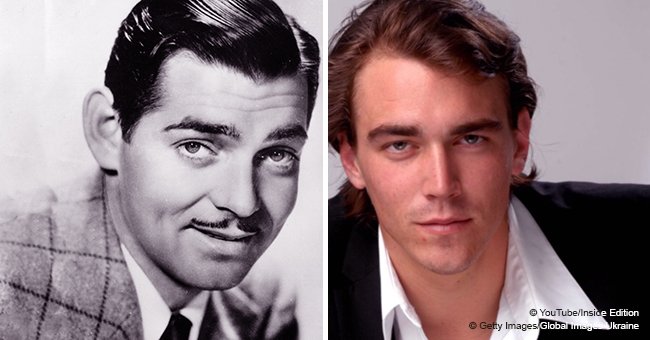 Death of Clark Gable's Grandson Reveals Two Generations of Dysfunction in the Famous Family

Clark Gable's grandson tragically died last Friday morning, but his death only put the spotlight on an evergrowing rift in the famous family.
The fiance of Clark James Gable first came upon his unresponsive body in his bed on Friday morning soon after he got transported to Texas Health Presbyterian Hospital, where doctors pronounced Clark James dead.
No official cause of death for the 30-year-old model has been released, and the late Clark James' sister Kayley shared the news on Facebook and wrote:
"My brother was found unresponsive this morning by his fiancé and didn't wake up. I LOVE YOU CLARKIE I'm so sorry we couldn't save you my heart is broken and shattered RIP."
Late Clark James' mum, Tracy Yarro Scheff wrote on Instagram:
Heartbroken, Kayley posted what appear to be screenshots of conversations with John Gable, she and the late Clark James' father don't see eye to eye. In a text reportedly from John Gable to Kayley, he asked that she never contact him again.
Kayley's response threatened to have the family's secrets spread out into the public eye by writing a book that spoke "the truth" of what goes on behind closed doors.
In one of his responses, John called Kayley and the late Clark James' use of his father's name a "disgrace." But the legendary Clark Gable's name is probably the only heritage they have.
Shortly after filming "The Misfits" with Montgomery Clift and Marilyn Monroe in November 1960, Clark suffered a blood clot that resulted in a fatal heart attack. John was born in March 1961, four months after Clark died, so he never got to know his father, a cycle he kept going.
The late Clark James' mum, Mrs. Scheff, still in shock and heartbroken after the death of her son wondered if his past issues with addiction could have been a factor as she said:
"I don't know if that took his life, but I know that wasn't what he wanted to do."
During the time of Clark James Gable's passing, he was busy shooting a movie in Dallas, although fans probably remember him best for his times as host of the reality show Cheaters during it's 13 and 14th seasons.
But the late Clark James shared much more than just a name with his legendary grandfather, Clark Gable.
Please fill in your e-mail so we can share with you our top stories!