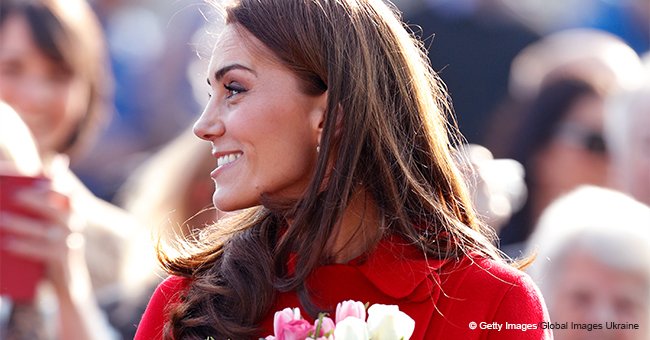 Kate Middleton Stuns the Crowd with Her Classy Red Coat during a Surprise Outing with William
The 37-year-old Duchess of Cambridge is on a two-day surprise visit to Northern Ireland with her husband and she has once again shown her impeccable style in red, delighting her fans.
The Duke and Duchess' official visit might be brief, but it has been filled with activities for the pair, including sports and outdoor adventures, but Middleton started the day in glamour.
The mother-of-three arrived at Belfast wearing a £1.200 (almost $2000) red coat by Carolina Herrera and black LK Bennet boots worth £199 ($265). The coat features a nipped in waist, Peter Pan collar, and double-breasted cut.
Duchess Kate has been seen wearing this garment on previous occasions, both of them outside the UK, first on the Royal tour of Canada and then for a visit to Paris, but she has no issues with recycling a good piece of clothing.
The royal couple received a warm welcome from the children of Fane Street Primary School, Victoria College, and Fullerton House, as Kensington Palace shared in its official social media.
Both William and Middleton took some time to greet the crowds gathered to meet them, and the Duchess was all smiles while shaking some hands, given some flowers, and even had a baby sticking his tongue out to her.
As the two knew their visit was going to be packed with physical activity, they had more sporty outfits prepared for the busy day.
The husband and wife took part in a soccer match at the Windsor Park stadium with a group of youngsters, to whom the Prince jokingly warned about Middleton's "dirty tactics" according to Mirror UK.
Middleton more practical wardrobe consisted of a £159 ($210) navy Barbour jacket and £80 ($105) New Balance trainers.
During their first day in Northern Ireland, Duchess Kate went on to practice canoeing, took an archery session, and helped children from a youth facility in Co Fermanagh pitch tents.
This is the third official visit William and Middleton have paid to the region. The first time was in March 2011, before they were married, and the second time was in 2016.
Due to security matters, this visit was kept a secret until the very moment the royal couple arrived in Belfast, as Daily Mail's royal correspondant Rebecca English announced early on February 24 via Twitter.
In Ireland, the Duke and Duchess of Cambridge have different titles, and they are known as the Baron and Baroness Carrickfergus.
Back in January, the couple traveled to Dundee, Scotland, where they are known as the Count and Countess of Strathearn.
Please fill in your e-mail so we can share with you our top stories!