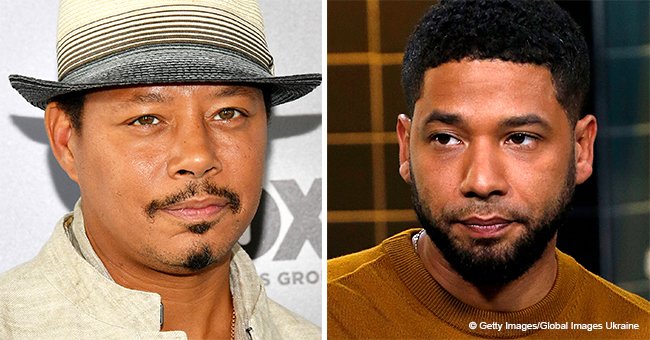 Terrence Howard Reportedly Had Meltdown on 'Empire' Set & Confronted Jussie Smollett about Attack
Terrence Howard was reportedly so upset upon learning of Jussie Smollett's arrest. He hid inside his trailer and refused to come out when the accused actor showed up after posting bail.
It seems Terrence Howard had a difficult time coming into terms with the drama unfolding in his TV son, Jussie Smollett's life. Reports suggest the "Empire" star had a meltdown after his younger co-star was arrested last week.
According to TMZ's account, Howard didn't want to come out of his trailer following a confrontation he had with Smollett on the set of their show, "Empire." On Thursday, the embattled actor who was accused of staging his own attack was released from police custody after posting bail. When he returned to the set that same day, Howard was allegedly so disappointed he refused to be part of the cast and crew who Smollett addressed that night. The 21-year-old to his co-workers denied the allegations to his co about him and insisted he was innocent.
Howard was suspicious of Smollett's story ever since news broke of his attack. In his mind, things weren't adding up. He even asked Smollett for details about the attack to fill in the gaps of his story. But when the Osundairo brothers' version of events emerged, it seemed clearer to Howard who the guilty party was. He reportedly confronted Jussie and yelled at him to tell the truth.
Despite this alleged friction between Howard and Smollett, there was no sign of that when the former showed his support for the latter in an Instagram post on Saturday. In the clip he shared, Smollett was playing with his son and he captioned it,
"All your lil homies got you... We love the hell outta you."
Howard even defended his post to a fan who criticized him for supporting Smollett.
"Sorry you feel that way but that's the only Jussie I know. The Jussie I know could never even conceive of something so unconscious and ugly. His innocence or judgment is not for any of us to decide. Stay in your lane and my lane is empathy and love and compassion for someone I've called my son for five years. It's God's job to judge and it's ours to love and hope, especially for those that we claim to have loved."
Meanwhile, Smollett's co-works are reportedly bent on believing that he staged his attack. This was believed to be the reason why producers of "Empire" decided to cut the actor's remaining scenes in the show despite previously showing support for him.
Moving forward, Smollett is expected to be present in a hearing on March 14. In the meantime, the question still remains if he's guilty or not.
Please fill in your e-mail so we can share with you our top stories!