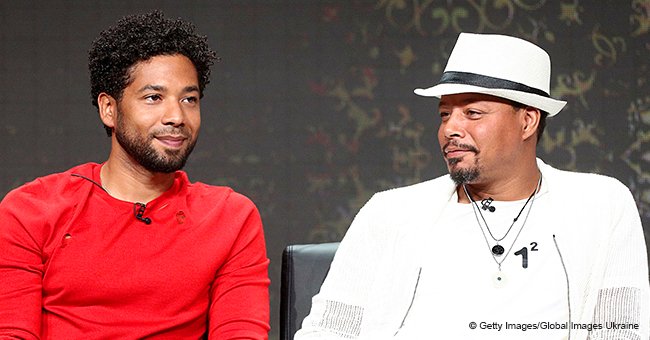 Terrence Howard Shows Support for Co-Star Jussie Smollett Amid Staged Attack Allegations

Jussie Smollett finds an ally in his co-star and on-screen father Terrence Howard who publicly expressed his support for the embattled star on social media.
Just as several prominent figures began turning their backs on Jussie Smollett after his arrest, the actor found a supporter in his co-star, Terrence Howard.
Howard plays Smollett's father in the Fox series, "Empire" and extended that role in real life when he took to Instagram and expressed support for the embattled star. He shared a clip of his on-screen son playing with his real life son and wrote,
"All your lil homies got you... We love the hell outta you."
Two of Smollett's co-stars appeared to echo Howard's stand when they left comments on the actor's post. One of them was Taye Diggs who wrote "Atta boy!" while the other was Gabourey Sidibe who simply typed three heart emojis.
Sidibe seems to be sending mixed signals on where she stands. She previously expressed support for Smollett on social media after news of his arrest. However, hours after the actor surrendered himself to authorities, she deleted her post.
Meanwhile, Smollett's producers who initially backed him at the start of investigations released a statement after his arrest. It announced that he was being cut out from scenes in the final two episodes of "Empire." According to the statement, the decision to remove the 36-year-old actor's role was to "avoid further disruption on set" as a result of recent events in his life. It also said,
"Jussie has been an important member of our Empire family for the past five years and we care about him deeply. While these allegations are very disturbing, we are placing our trust in the legal system as the process plays out."
Smollett surrendered to the police after he was formally charged with disorderly conduct for falsifying a police report in connection to a hate crime allegedly committed against him. The investigation into the case suggested that the actor staged the attack and paid the men who assaulted him.
Smollett maintains his innocence throughout the ordeal but prominent personalities have begun to turn their backs on him in light of the new allegations. Cardi B slammed him for ruining Black History Month while House Speaker Nancy Pelosi deleted her previous tweet of sympathy and support.
Smollett is currently out on bail and may be facing one to three years in prison if proven guilty.
Please fill in your e-mail so we can share with you our top stories!