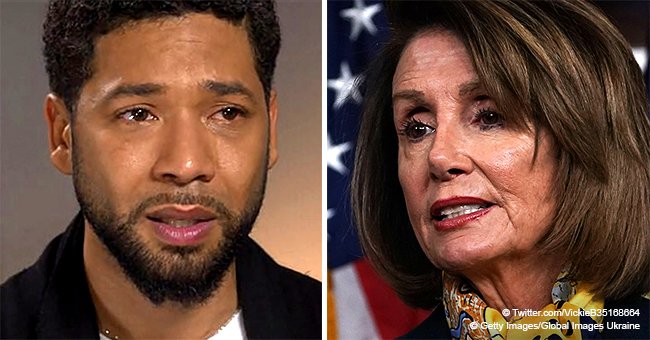 Nancy Pelosi deletes tweet supporting Jussie Smollett after reports he may have staged his assault

Nancy Pelosi got caught up in the Jussie Smollett drama after she deleted a tweet, shown below, that had supported him. Reports now claim Smollett may have staged his assault.
As the saga surrounding Empire star Jussie Smollett's attack unfolds, the initial support the actor received has waned. evidence suggesting Smollett may have paid two acquaintances to carry out the alleged racist and homophobic attack has caused a massive backlash.
The new wave of media attention on the story saw House Speaker Nancy Pelosi revoke her initial sympathies. She went as far as deleting a tweet she had made supporting Smollett when the attack initially made the news.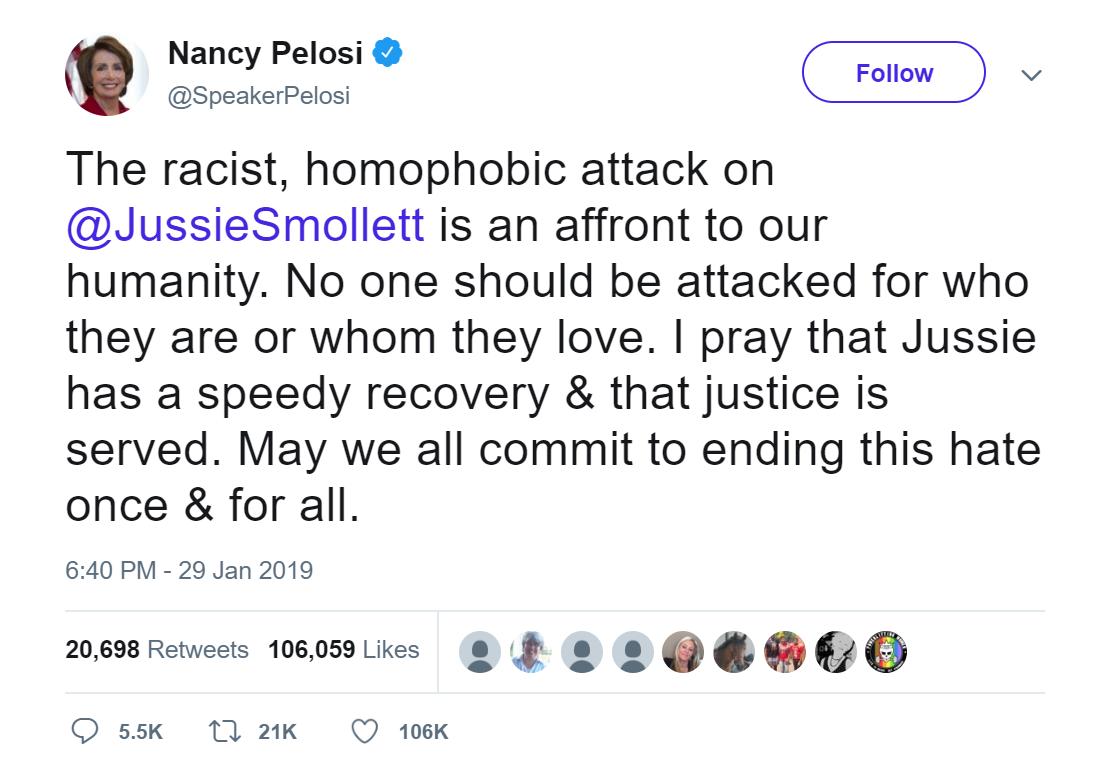 Screenshot of now deleted tweet from Nancy Pelosi | Image: Twitter @speakerpelosi
On January 29, the news of an attack on Smollett first broke. Pelosi took to Twitter to share her sympathy and call for justice.
She tweeted, "The racist, homophobic attack on @JussieSmollett is an affront to our humanity. No one should be attacked for who they are or whom they love. I pray that Jussie has a speedy recovery & that justice is served. May we all commit to ending this hate once & for all."
With the new allegations against Smollet, the tweet has now been deleted. Pelosi's deputy chief of staff, Drew Hammill, confirmed the tweet was removed intentionally.
"As the Speaker who passed the fully inclusive Matthew Shepard and James Byrd Jr. Hate Crimes Prevention Act, we spoke out because this appeared to be a deeply troubling incident of violence motivated against vulnerable communities," Hammill revealed. "Given the turn in the investigation, we decided to no longer amplify the original accusation. Following the conclusion of the ongoing investigation, we will comment further. We should all be united in fighting racism and homophobia."
Last week, the Chicago Police Department had arrested brothers Abimbola "Abel" and Olabinjo "Ola" Osundairo on suspicion of involvement in the attack. The pair were later released after "new evidence" apparently came to light.
Reports showed that the Osundairo brothers have worked with Smollett on the Empire set. The police stated that their interrogation resulted in information which "shifted the trajectory of the investigation."
Smollett's attorneys vehemently deny he staged the attack. However, Smollett has so far refused a follow-up interview which was requested by the Chicago police.
Pelosi is not the only notable figure to revoke support for the star. However, some are still backing him and have faith he was not involved in a staging.
Empire showrunner Brett Mahoney tweeted, "I believe and stand by @JussieSmollett. Keep your head up."
While director Ava DuVernay doubted the Chicago police department and questioned their trustworthiness writing,
"Despite the inconsistencies, I can't blindly believe Chicago PD. The department that covered up shooting Laquan McDonald over a dozen times? That operated an off-site torture facility? That one? I'll wait. Whatever the outcome, this won't stop me from believing others. It can't."
Please fill in your e-mail so we can share with you our top stories!